Joden Girl
Baubles, Bling, and a 1950's Ring
This is one MCM that I could really go for…  and I'm not talking about Man Crush Monday, but rather Mid Century Modern.  In the years following the end of WWII, a significant design movement began to emerge…  in all areas – furniture, art, fashion, automobiles, and jewelry.  With the war over, previously restricted materials became available again like platinum and silver.  As new styles and trends began to develop, old ones were rejected and this was no exception.  Rose gold reigned supreme in the the 1940's period known as Retro.  Mid Century Modern was an eclectic combination of yellow and white metals…  gold, silver, and platinum.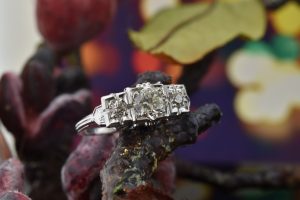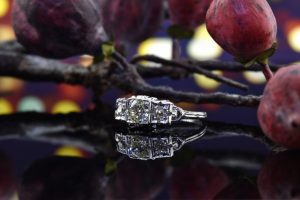 This beauty is tailored and traditional times three.  A warm European Cut diamond is artfully set in four-cornered fashion.  Weighing approximately .50 carat, this sparkler is modestly embellished by a pair of period-cut diamonds that have a combined weight of .10 carats.  The strong geometric shape of the top of this ring is further enhanced by a ribbed shank.  Crisply crafted from 14 karat white gold, this hand finished ring was made during the early 1950's.  Priced at $2200, this low profile, elegantly outlined diamond trio ring makes an ideal gift for any lady on your holiday shopping list.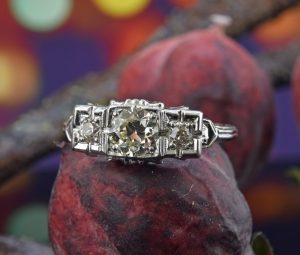 This ring and many others are waiting for you at Joden.  Even now, after nearly 50 years in business, our motto continues to hold true…
You can go to a museum and look, or you can come to us and touch.
Writing and Photos by Carrie Martin