Joden Girl
Baubles, Bling, and Glamorous Things
At the end of the 1930's, the strong geometric lines of Art Deco evolved into the vivid 3-dimentional curves that Retro is known for.  Jewelry of the 1940's-1950's makes a bold statement, like this striking bangle…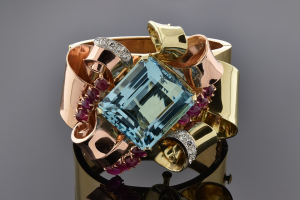 Wide ribbons of rose and yellow gold wrap around a large emerald cut aquamarine center stone.  Bright red cabochon rubies and round diamonds add another element of color and design to this already outstanding piece.  To further heighten the appeal, this bangle is able to be converted to a pendant as well as a brooch – fashion AND function!
WWII was a powerful influence on the time.  The use of platinum was restricted making multicolor gold a popular choice…  yellow, rose, and green gold reigned during the Retro period.  Women's apparel bore a noticeable resemblance to military uniforms – the look was handsome rather than pretty with high collars and ultra masculine lines.  To soften the effect, ladies added jewelry like this…
These oversize pieces are as audacious as they are delicious.  This large bow brooch will catch anyone's eye – it centers on a 65 carat citrine; Retro style at its finest.  Priced at $6500, it pairs perfectly with the angular lines of this statement ring.   The hourglass shape of the ring nearly spans from knuckle to knuckle – ideally worn on an index or middle finger.  Make it yours for $4500.00.
Much of the Retro period was dedicated to trying to regain the Old Hollywood glamour of the 1930's.  Pieces like this flaunt that designers achieved and surpassed that goal.  Go to our site and look, then come to Joden and touch.
Be sure to sign up for our newsletter and have Joden Girl delivered right to your inbox each week.
Written by Carrie Martin
Photos by Shelly Isacco