Joden Girl
Baubles, Bling, and A Collector's Things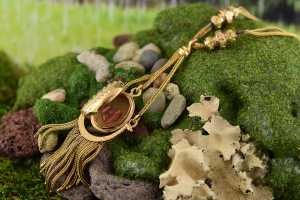 In the last week, I have had three different requests for antique lockets.  So, this edition of "Joe's Special Box" is dedicated to an absolutely stellar antique locket.  My love for this piece is threefold –
1.  It's two tone.  By and large, this necklace is handcrafted from a rich yellow gold, but the subtle addition of rosy accents make it even more special.  Check out the dynamic duo here.
2.  It's a tassel.  This late Victorian beauty combines two of the biggest trends of the last year…  chokers and tassels.  Being just 15 inches in length, this piece lays perfectly at the base of the throat with twelve silky strands of gold artfully arranged across the softly arched bottom.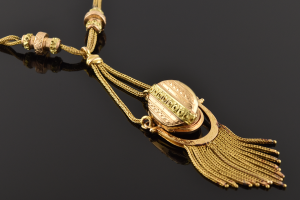 3.  It's a locket.  Carefully hidden in the center of this antique pendant is a small oval locket.  A myriad of engraved patterns create five parallel lines on the lid.  Once opened, it reveals an unused pocket…  the ideal spot for a lock of hair or love token.  Only the wearer need know what lies inside.  
If you're like my recent customers, and are looking for an antique locket…  look no further.  Go to our site and make this one yours.  Priced at just $2550 – it's a sure bet that you'll never regret.
Written by Carrie Martin
Photos by Shelly Isacco