Joden Girl
Baubles, Bling and the Latest Things
With yellow gold reigning supreme as THE metal of choice, our cases are overflowing with exceptional examples of this warm rich medium.  Although gold is great on its own, it's also the ideal accent for gemstones of every color… especially sapphires.  There's nothing like the deep full-bodied tone of 18-karat yellow gold paired with vibrant vivid blue sapphires.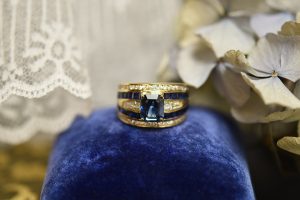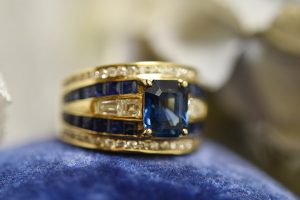 This ring is a bold statement piece.  Measuring just over a half-inch wide on the top and tapering to a quarter-inch at the back – it's sturdy and strong. Featuring five distinct rows of stones, this ring alternates diamond, sapphire, diamond, sapphire and diamond.  The outside edges are set with fifty round brilliant diamonds while the center row highlights two step-cut square diamonds and two tapered baguettes.  These fifty-four diamonds have a total weight of .64 carats.  Nestled into the rows between are twenty-eight square sapphires.  Reminiscent of your favorite denim jeans, the tone of these sapphires is the perfect medium blue.  They offer 2.50 carats of subtle shine.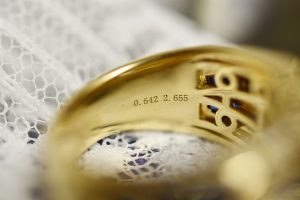 Seated atop this beautiful broad acre of glittering gems is one octagonal step-cut natural sapphire.  Graded by the Gemological Institute of America, the stone hails from Thailand – a country that produces some of the finest sapphires in the world.  This stunner weighs exactly 2.65 carats and flawlessly matches the color of the other twenty-eight blue beauties.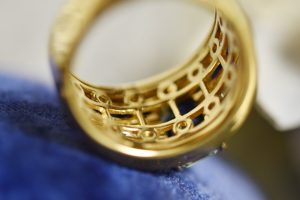 This ring is a prime example of the advantage of a modern piece.  Expert manufacturing complete with clean-out holes behind every stone ensure the longevity of the ring.  Diamond rates as a 10 on the Mohs Scale of Hardness and sapphires (aka corundum) rank at a nine; these gems aren't just pretty, they're durable too.  Every element of this ring from the superb construction to the stone choice promises that this ring can be worn every single day.  It's a piece of jewelry made to be loved and enjoyed.  Priced at $6,500.00 – this is the choice that will last a lifetime.  
"You can go to a museum and look or come to us and touch."
Written by Carrie Martin
Photos by Dana Jerpe