Joden Girl
Baubles, Bling, and Phenomenal Things
Gemstones are a wonder of nature – stunningly beautiful crystals and rocks dug from the Earth's crust.  Every color of the rainbow…  from the deepest reds to hypnotic blues; each one is a marvel to behold.  Some stones offer more than just an alluring hue – a few stones also have unique properties that further enhance their natural appeal.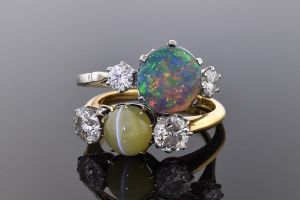 The top ring in this photo features a round black opal paired with two round brilliant diamonds all set within a classic 18 karat white gold three stone ring.  Depending on the environmental conditions when the stone was formed, Opal can take on a variety of colors…   everything from translucent to black.  Black opals are the most rare while the white and green tones are most common.  This particular black opal blazes with flashes of red, orange, blue and green. 
Handmade just before the start of WWII, this ring has a timeless style that transcends current modern trends.  Priced at just $5,500.00 (an absolute steal for a natural 3.00 carat black opal!), the everlasting elegance of this piece is not to be missed.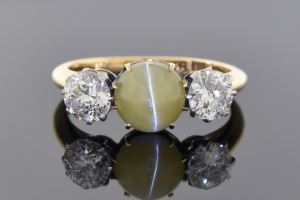 This three-stone ring was handcrafted just after the turn of the century during the Edwardian period, circa 1910.  Claw-type prongs hold each of the stones:  two Old European Cut Diamonds and one Chrysoberyl Catseye, aptly named for its uncanny resemblance to a cat's eye.  This phenomenon is created by special rutile crystals inside the stone that produce a dazzling effect referred to as chatoyancy.  The term "milk and honey" is sometimes used to describe the milky ray of white light that crosses over the honey-colored background.  This head turner is available on our website for $5500.00. 
Whether you're drawn to gemstones for their brilliant colors or the rare qualities that make each one unique, the best place to find them is the same…  Joden Jewelers.  The exquisite selection begins with tradition and ends with the limits of your imagination. 
"Go to our site and look, then come to us and touch."
Written by Carrie Martin
Photos by Shelly Isacco