Joden Girl
Baubles, Bling and Knotty Things
A recurring theme since the 1600's through the present day, the bow has been a beloved symbol of jewelers for centuries.  Often employed to communicate a message that couldn't be spoken aloud, this elegant emblem was most often spotted pinned near the heart…  conveying the ever so romantic message that the wearer was in love. 
Time and again, the ribbon ornaments made in the Edwardian era were realistic and free-flowing with asymmetrical trailing tails.  This gem, crafted on the cusp of the Art Deco period is a departure from that style; it's reminiscent of the bows made for the French Royal Court in the 17th century.  Prim and proper with perfectly even halves, this platinum topped 14-karat white gold bow brooch is lovely.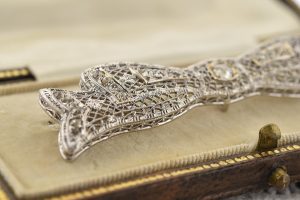 Criss-crossed patterns of lacy filigree exude femininity.  Already a symbol of love, this bow has a secondary message woven among the intricate design…  tiny forget-me-not flowers bloom on each loop and tail.  Much like tying a string around your finger can remind you to do something, the miniature blossoms on this bow brooch are meant to keep a special someone constantly on your mind.
The beauty is further enhanced by bejeweled edges.  There are thirteen Old Mine Cut diamonds that offer .50 carat of scintillating sparkle.  It shimmers and shines from every angle and is a true enhancement to any outfit.  
Priced at $1,000.00 – this charmer will be on our website soon.  If this bow has you tied up in knots, but just can't envision yourself wearing a brooch – don't worry!  With two highly skilled bench jewelers in our on-premises shop, this brooch can become the necklace of your dreams.  A few small modifications and the addition of a chain will take this piece to the next level.  These changes can be done easily and won't break the bank.   Give us a call at 800.747.7552 or drop an email to carrie@joden.com with any questions.  
"You can go to a museum and look or come to us and touch."
Written by Carrie Martin
Photos by Dana Jerpe