Joden Girl
Baubles, Bling and Curious Things
Customers are always surprised to discover that synthetic gemstones have been around for quite awhile…  nearly 150 years!  It's a common misconception that just because a piece is old then it must be real.  Time after time we have had to break the news that a beloved family heirloom is unfortunately NOT a priceless treasure.  More often than not, the true value of grandma's ring is found in the memories of her wearing it rather than the rocks and metal it's made from.
The inventory at Joden boasts a vast cache of Victorian riches including several little trinkets featuring a variety of imitation, synthetic and even glass stones.  Each of them is original and authentic, adding to their individual appeal.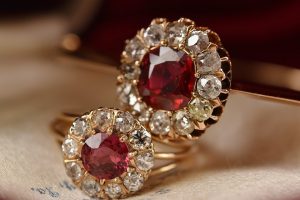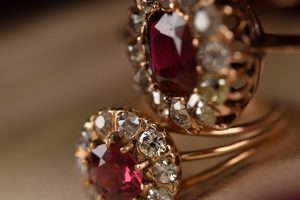 Recently, I stumbled across these two beauties…  a nearly perfect pair.  Both the ring and the bangle are from the late Victorian era, circa 1885.  Each one is meticulously crafted from rosy 14 karat gold.   The style is simultaneously simplistic and striking…  a harmonious balance that can be difficult to achieve.  While they each have a brilliant red center stone, one contains a red spinel and the other is synthetic.  Can you spot the not?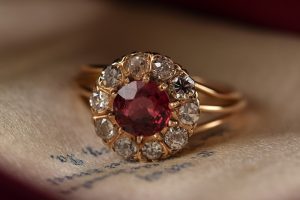 The triple banded open-shank of the ring is an ideal complement to the sparkling halo of diamonds.  There is an eclectic mix of cuts contained within…  there are single-cuts, Old Mine Cuts, European Cuts and even one round brilliant.  The unusual selection probably indicates that stones have been replaced over the years, adding another element of charm to the history of the piece.  It's available on our site for just $1,380.00.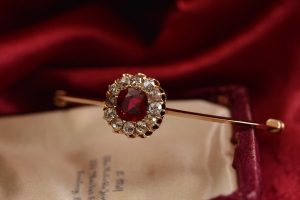 The bangle displays a singular knife-edged top with a round, tubular bottom bow.  A hidden push-button clasp releases the side, allowing it to open for ease of use.  The cushion-shaped center section glows with 1.25 carats of Old Mine Cut diamonds, arranged in an elegant halo motif.  Although it's not on our site, it's available in our showroom for $2,250.00.
Perhaps you're wondering, which center stone is which?  Or maybe you've jumped ahead and discovered the answer for yourself by clicking the link to our site.  While each stone is bright and beautiful, it's the ring that contains the genuine red spinel and the bangle features an authentic synthetic center.  Which one would you choose?  Better yet – why choose when you can have both!
"Go to our site and look, then come to Joden and touch."
Written by Carrie Martin
Photos by Dana Jerpe