Joden Girl
Baubles, Bling, and A Collector's Things
Unsigned, but undeniably similar to the work of Lucien Gautrait and Leon Gariod.  Could this striking piece have been made by one or both of these two gentlemen?  It's a well-known fact that Gautrait often left his masterpieces devoid of his famous signature.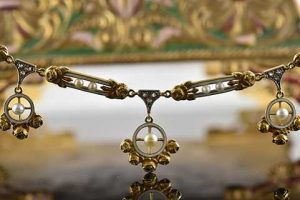 This Belle Époque beauty bears all the characteristics of an Art Nouveau rare find.  Twenty-three hand carved rose blossoms decorate each link of this high karat gold and platinum-trimmed piece.  White enamel, natural pearls, and rose cut diamonds provide the finishing touches on this turn-of-the-century necklet.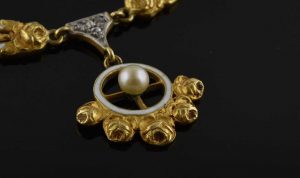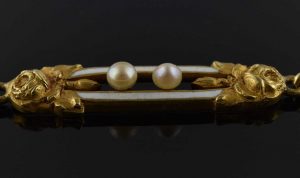 The craftsmanship is superb and the condition is positively perfect… just like every piece in Joe's Special Box.  Make it yours for just $5800.00.
"You can go to a museum and look, or come to us and touch."
Written by Carrie Martin
Photos by Dana Jerpe