Joden Girl
Baubles, Bling, and A Collector's Things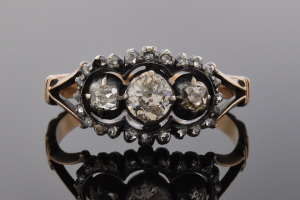 Simply stunning.  Truly.  This ring, hand-fabricated in the 1870's, is a classic example of a Mid Victorian engagement ring.  It features all the ear-marks of the Grand Period…
Silver was discovered in Virginia City, Nevada in 1860.  It was very popular during the mid-1800's and was often combined with low karat gold.  Here, the darkened silver overlays a 14 karat gold base. 
Two of the most utilized diamond cuts were Old Mine Cuts and Rose Cuts – this beauty has both.  Three Old Mine Cut diamonds (.50 carat total) create the center.  They are surrounded by a scalloped halo of twenty-four rose cut diamonds (.25 carat total).  These bright white sparklers twinkle with every turn of your hand.
The Old Mine Cut diamonds are held in place with "claw" prongs – a new style for the period.
My favorite detail of this ring has taken nearly 150 years to develop.  Just look at the gorgeous patina on the band of the ring!  The oxidation of this piece brings it to life, showcasing each design element – from the split shoulder to thehand-carved lines.  It's absolute Victorian perfection. 
Priced at just $2000, this ring is a steal – a true antique in pristine condition.  Take our heirloom and make it yours.
"Go to our site and look, then come to Joden and touch."
Written by Carrie Martin
Photos by Shelly Isacco