Joden Girl
Baubles, Bling, and A Collector's Things
Wow!  It's hard to believe it's already been a month since we started the "Joe's Special Box" series.  I am excited to share this week's selection with you – it's a rarity for me…  an emerald piece that I adore.  Being a May baby, emerald is my birthstone – but I'm usually more of a sapphire girl.  Until today.  Until this necklace.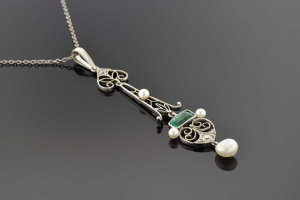 Everything about it is perfect.  I don't have one single complaint.  This pendant dates back to the turn of the 20th century, making it late Edwardian or Early Art Deco.  It's intricately crafted from platinum with a clever little-coiled wire heart motif at the top and bottom.  A singular emerald is set in east/west fashion across the base of the piece, with natural pearl and diamond accents.  It is simple elegance, and I love it! 
Affordable pendants from this period are rare – this one is not to be missed.  Make it yours for just $1600.
Written by Carrie Martin
Photos by Shelly Isacco