Joden Girl
Baubles, Bling and a Victorian Ring
Clues.  Jewelry is filled with them…  and it's up to us to play detective to find them and discover everything we can about a particular treasure.  Sometimes we get lucky and the clues are crisp and clear, stamped right on the item.  They're called hallmarks, maker's marks, or assay marks.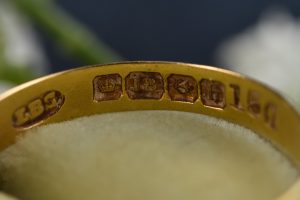 As you can see, this sweet little ring has a series of these marks and they do, in fact, tell a story.  I used my mini magnifying glass (a loupe) to interpret each one:
LBS – This is the "Maker's Mark".  These letters signify the jeweler who made the ring.  I searched the internet as well as our in-house library to try to find out just who LBS might be with no luck.  Not gonna lie, I was a bit bummed… but not deterred!  
CROWN – This is called the "Gold Standard Mark".  All gold jewelry in the United Kingdom that is 9 karat, 14 karat, 18 karat or 22 karat will bear this symbol.
18 – This is the "Gold Fineness or Purity Mark" noting that this ring is made from 18 karat gold.
ANCHOR – This is the "Assay Mark" that tells where the ring was stamped.  The anchor is the symbol for the Burmingham Assay office in the United Kingdom.
h – The small letter "h" shows that this ring was made and assayed in 1882.
Unique details add to the rich history of this delicate beauty.  Deeply etched scrolls create an unusual pattern on each shoulder while the center plaque has a diagonal flourish handset with a bright blue sapphire and two tiny rose cut diamonds, adding a bit of whimsical charm to this Victorian darling.  Two additional sapphires are set within the side scrolls, a pop of blue against the buttery 18 karat yellow gold. 
This ring is low profile and easy to wear.  Perfect alone as a non-traditional wedding band or right-hand ring or piled high with your favorite stackables – make this one yours for just $775.00.  
"Go to our site and look, then come to Joden and touch."
Written by Carrie Martin
Photos by Dana Jerpe