Joden Girl
Baubles, Bling, and Connecting Things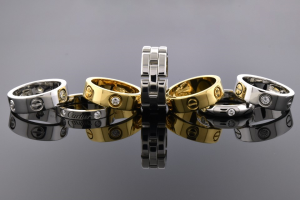 If you're searching for the ultimate wedding band, look no further.  We have a limited selection of the very finest in band rings – authentic Cartier pieces, all accompanied by the signature red leather embossed box. 
This classic 18 karat white gold "Maillon Panthere" band would look fantastic on anyone's finger.  The band is aptly named… a maillon is actually a linking devise similar to a carabiner, most often used in rigging and climbing sports.  It makes a secure and vital connection – much like a wedding band.
These three bands are from the Cartier "Love" collection.  Each one is engraved with the iconic love symbol (a circle with a line through the center).  The first piece ever crafted in this collection – the "Love" bracelet – was originally designed as two separate halves that joined together to create one.  A special screw locks the halves together; this strong connection can only be undone by using the screwdriver that comes with the bracelet.  The symbol looks just like the top of this unique locking mechanism and has become the trademark of the entire line.  Each band embodies the strength of the commitment between the giver and the receiver.
Cartier has dubbed them "rings of eternal emotions".  They truly are the ultimate wedding bands. 
Go to our site and look, then come to Joden and touch.
Be sure to sign up for our newsletter and have Joden Girl delivered right to your inbox each week.
Written by Carrie Martin
Photos by Shelly Isacco