Joden Girl
Baubles, Bling, and Emerald Rings
Wednesday was my birthday – the 31st of May…  making emerald my birthstone.  It's rare that I find a piece of emerald jewelry that appeals to me, and when I do – the price usually exceeds my comfort zone.
To be considered fine quality, these gems must exemplify two attributes – an intense green hue that can only be described as "emerald green" and a high degree of transparency.  Stones like this are rare.  And usually quite expensive.  So, when I saw this little beauty – I was pleasantly surprised.  I love the whimsical flower design (of course!) – AND it's affordable.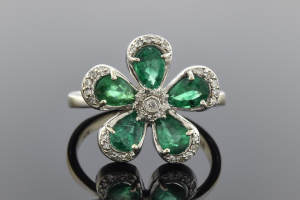 White gold, natural pear-shaped emeralds, and tiny diamond accents combine perfectly to create this five-petal blossom.  For me, it's a right hand ring… I love the way it looks on a middle finger!  You will, too.  Go to our site and check it out.
If you're looking for a classic style, these two pieces are ideal.  Both rings feature delicate diamond halos encircling round emeralds – traditional elegance with a bright pop of color.  Choose one for your right hand, or your left…  you can't go wrong!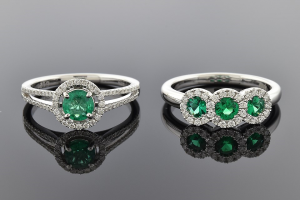 Now that you're positively green with envy – go to our site and turn ours into yours!  Get Joden Girl delivered right to your inbox by clicking on the newsletter link and subscribing today. 
"Go to our site and look, then come to Joden and touch."
Written by Carrie Martin
Photos by Shelly Isacco