Joden Girl
Baubles, Bling and Eye-Catching Things
In 2018, engagement ring trends have definitely taken a turn…  a sideways turn, that is.  Fancy shaped diamonds are no longer being set in the traditional North/South direction.  Our customers are FLIPPING for East/West orientation!  This look is a little unexpected, but "Oh so chic!  "
This ring is a Joden exclusive…  completely handmade by our own Steve Becker.  An innovative beauty, it's made from just four round platinum wires.  Three of those wires wrap around the finger while the fourth creates a cradle for this stunning 1.20 carat marquise stone.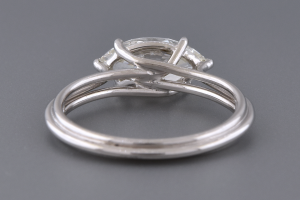 From this view, you can begin to appreciate the simplistic genius of this contemporary classic.  It allows all the focus to be on the diamond.  And isn't that what engagement rings are all about?  That killer center stone!  As I mentioned earlier, this ring is only available at Joden and can be custom made to fit just about any diamond.  
I love the band-like shape of the ring.  Because of the flat edge, this diamond ring can be easily paired with any band…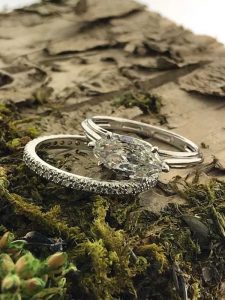 Check out this duo!  The aesthetic appeal of the non-traditional solitaire with a timeless eternity band is epic.  One thing is certain, this is definitely NOT your mother's marquise ring.  
"Go to our site and look, then come to Joden and touch."
Written by Carrie Martin
Photos by Shelly Isacco