Joden Girl
Baubles, Bling, and Opal Things
Opal is one of the most popular of all gemstones.  The astonishing color palette captivates all who see it.  I am drawn more to black opals than white…  I dig those rare gems with strong cerulean body tones and bright flashes of emerald green and hints of crimson red.  As soon as I laid eyes on this bracelet, I knew I had to share it with you.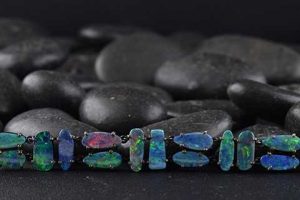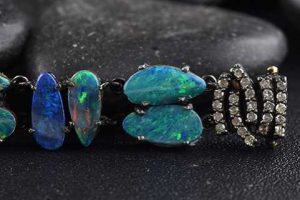 This stunner is made from thirty individual pieces of boulder opal weighing approximately fifty carats total.  Each free-form stone is prong-set into this silver and 18 karat yellow gold bracelet; a subtle setting is the ideal complement to the vibrant opals, it allows their natural beauty to really shine.  
Boulder opal is one of the most valuable types, second only to black opal.  It is only mined in Queensland, Australia.  First found in 1870, this vivid gem forms in the veins and fissures of ironstone boulders.  When it is mined and cut from the boulder, a small portion of the ironstone remains on the back of the opal…  hence the name – boulder opal.  To maximize the weight of the stone and minimize the loss, this unique specimen is nearly always cut in irregular shapes like the ones in our bracelet.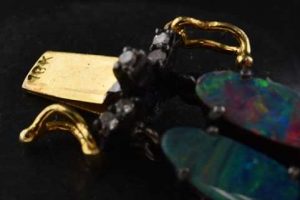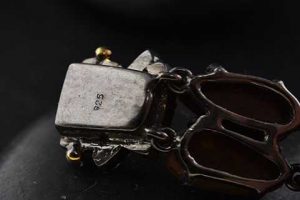 The clasp features thirty round brilliant diamonds set in six rows with five stones each.  These little sparklers have a combined weight of .20 carats.  There's no question, the stars of this show are those opals!  The play of color is extraordinary.  An array of deep blue hues blend harmoniously with dynamic pops of green and red.  It's like fireworks on the Fourth of July…  truly awe-inspiring. 
Be sure to shop our Facebook store where this piece is available for $2,480.00.  While you're there, like our page and follow us on Instagram!  
You can go to Facebook and look, then come to Joden and touch.
Written by Carrie Martin
Photos by Dana Jerpe