Joden Girl
Baubles, Bling, and Pearly Things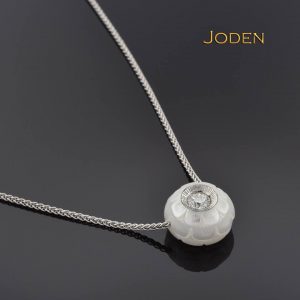 At Joden, our collection is vast and varied – it encompasses every time period, every price point, and every style.  In our continued quest to provide the exceptional as well as the eccentric, we stumbled upon a modern marvel…  Galatea.  This company has taken a classic, the pearl, and further enhanced it's inherent beauty.  
Galatea is actually carving into the nacre (the layers of the pearl) to create stunning designs like this one… a 14 karat white gold pendant featuring an 11.5 mm pearl flower!  Sparkling in the center of this blossom is a round brilliant diamond!  This pendant is simply beautiful, and available now on our site for just $1500.00.  
I love that this cutting-edge designer has taken two time-honored pieces of jewelry – a pearl necklace and a diamond pendant – and combined them in such a spectacular way.  It's the perfect addition to your summer wardrobe…  make it yours today.
Go to our site and look, then come to Joden and touch.
Written by Carrie Martin
Photos by Shelly Isacco