Joden Girl
Baubles and Bling with Unbelievable Pricing
Georgian pieces are a rare find.  Georgian pieces in excellent condition are nearly non-existent.  It's no surprise considering that the Georgian era ended in the 1830's…  most of these uncommon gems are at least two hundred years old.  
Jewelry was completely handmade from labor intensive techniques like thin sheets of usable metal made with hand hammered gold ingots.  Primitive rose cuts, Old Mine cut diamonds and gemstones were set in silver and gold; feminine floral motifs were all the rage.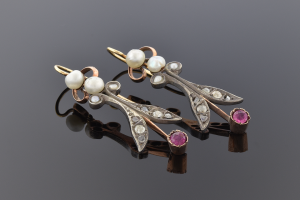 These late Georgian earrings resemble a pair of flowers hanging upside down…  small red ruby buds are set in simple pinched collets.  Twelve rose cut diamonds add a hint of sparkle to the silver leaves on either side of the golden stem.  Natural pearls set on an uncomplicated swirl of wire complete the look.  
Previously priced at $1,200.00, these earrings have been chosen as a Pick of the Week.  After a significant price drop, they're now available for just $900.00!  Check them out on our site now.
"You can go to a museum and look, or come to us and touch."
Written by Carrie Martin
Photos by Dane Jerpe and Shelly Isacco