Joden Girl
Baubles, Bling and Mourning Rings
Snapchat, Facebook, Instagram, and Twitter… 
Duck Face, Kissy Face, Smize, or Squnich…
Millenials are memorializing every detail of their lives, from the most mundane to the downright inappropriate – it's all there on social media for the world to see.  I'm not averse to it…  I've been known to pose for a selfie or two, send out snaps and check in with my girls on Facebook – but some life events deserve more than a quick pic and a hasty status update.  Things like engagements and weddings, or perhaps when a new life begins, and certainly when a life ends. 
They were doing it right two hundred years ago.  When a loved one passed away, the bereavement process often included the creation of a special piece of jewelry; it was called mourning jewelry.  These unique treasures usually included the name of the deceased person as well as their death date.  Many also included a special compartment for a lock of hair.  These small trinkets were handed out at the funeral while more elaborate styles were worn by family members.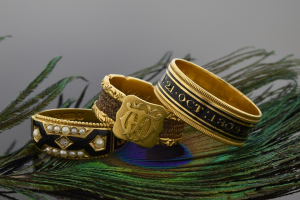 These are just three of the mourning rings we have here at Joden.  Black enamel was a recurring theme in this type of jewelry (as you can see) as were pearls, urns, and flowers.  Each one of these rings is engraved (from left to right)…
T.T.J.  14.12.1893
M.H.C. Mourant died 6th Oct. 1866
W:  Terry OB: 24 Oct: 1809: AE 53
The trio of rings on the left are all very similar to each other; the hair receiver on top surrounded by natural pearls (usually signifying the loss of a child).  Only one of them actually contains hair – the other two are still waiting for someone to fill them.  The ring on the right was made in the Georgian period.  The delicate blonde tresses inside have been plaited into a basket-weave pattern completely surrounded by sparkling purple gemstones. 
Quite a lot of the mementos made in the 1800's were brooches and lockets, like the ones shown here.  The two pins in the foreground are exceptional examples of the fine workmanship that mourning jewelry is known for.  The locket in the background is covered in a layer of black enamel with a pearl-centered flower on the front.  As you can see in the photo on the right, the locket appears to have never been used…  the original blue silk is still inside in pristine condition.
I readily admit that when one of my sons is doing something particularly adorable or noteworthy, the first thing I reach for is my cell phone – to capture that smile forever.  Photographs are truly worth a thousand words, and I cherish all of mine.  But I can't help but feel that if I had a ring on my little finger (with a lock of my loved one's hair safely cradled inside), it would be incredibly comforting to know that I carried a part of them with me every day.  I'm certain that each time I looked at the ring, I would smile.  And remember. 
Written by Carrie Martin
Photos by Shelly Isacco