Joden Girl
Baubles and Bling with Unbelievable Pricing
Our newest edition of the blog, the "Pick of the Week" is entering it's fourth week…  while we're just beginning to gain momentum, we'd love your feedback.  Have you been tempted to push the "buy" button?  If you didn't make that purchase, what stopped you?  Perhaps we just haven't had the perfect fit.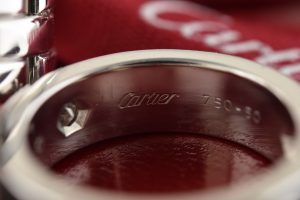 Speaking of the perfect fit…  sometimes a piece of jewelry is like Cinderella and the glass slipper.  This week, we are offering a trio of bands from the ultimate in designer jewelry – Cartier.  Each one is brand new and accompanied by the signature red box.  But just like that glass slipper – it's all about the fit.  
First, we have an identical pair of 18 karat white gold "Love" rings with diamond accents.  Each of these highly coveted bands is set with three round brilliant diamonds that have a combined weight of .22 carat.  Alternating between each diamond is the iconic carved screw design – the signature of the "Love" collection.  Settling on the mandrel at size 5.5, these beauties were priced at $3,450.00 each.  For the next week, you can nab one of these for the steal of a deal price of just $2,250.00!
And then we have this gem…  the Cartier Maillon Panthere ring.  This unique three-row design is a bit more industrial but every bit as desirable.  Comprised of eighteen interlocking bars of 18 karat white gold, this ring is the ideal choice for your wedding band.  Also sized at a 5.5 and previously priced at $3,450.00 – this killer band is available for only $2,250.00!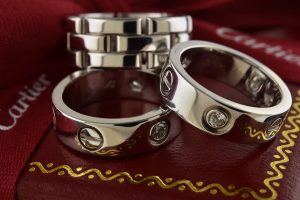 If you've been watching and waiting for the right "Pick of the Week" for you, don't wait another minute!  If you thought Cartier was always just out of your reach, this is the week for you.  Go to our site and grab of these enchantresses for yourself.  
"Go to our site and look, then come to Joden and touch."
Written by Carrie Martin
Photos by Dana Jerpe and Shelly Isacco