Joden Girl
Baubles, Bling, and an Antique Diamond Ring
In the mid to late 1800's, girls as young as twelve were permitted to marry, although most waited until they were at least 20.  That's a bit younger than today.  Nowadays, the most common age for ladies to tie the knot is about 27.  In either case, I am certain that countless hours were spent dreaming of the perfect engagement ring.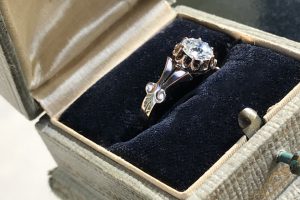 No matter the era, Victorian or modern – this stunner is sure to be the cause of many oohs and aahs.  Made from 14 karat gold polished to a soft rosy glow, the band is exquisitely simple.  Twelve individual prongs create a delicately scalloped buttercup setting that cradles the Old European Cut diamond center to perfection.  Weighing in at .80 carat, the diamond sparkles and shines from every angle.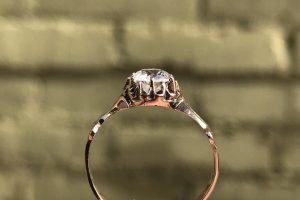 A gently sloped shoulder splits artfully into two halves, like a pair of leaves.  At the base of this botanical-inspired design is a tiny pair of spirals that flow seamlessly into the shank.  I am in love with the sheer thinness of the band…  it's SO comfortable!  I love a good solitaire setting – it's tough to beat the classic elegance of it.  It's available now for just $2,890.00.
Queen Victoria's love of diamonds began a trend that is now a tradition.  Start your own traditions with an engagement ring from Joden where their motto holds true:
You can go to a museum and look, or come to Joden and touch.
Written by Carrie Martin
Photos by Dana Jerpe