Joden Girl
Baubles and Bling with Unbelievable Pricing
The Pick of the Week is my favorite feature blog.  I adore the idea of making some of our most cherished items more affordable!  Who wouldn't love that?  Without question, the diamond engagement rings have been the most popular pieces.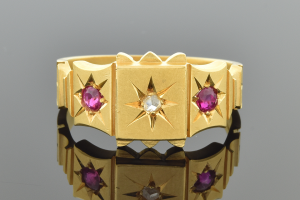 This week, we're focusing on a different price point…  an authentic, mint- condition Victorian ring.  It's a tiny treasure!  Made from 9 karat yellow gold, with 18 karat gold gilding, this ring is perfection.  I love the architectural outline… with gentle curves and bold edges.  Distinctly divided into segments, this antique three stone ring is beautiful from every angle.
One rose cut diamond is set within an eight-pointed star in the center.  It's flanked by a pair of old cut rubies that are also star-set.  This style was quite popular during the Victorian era, adding a bit of flair to each little gem.  A pair of triangles are carefully etched into each side of the shank.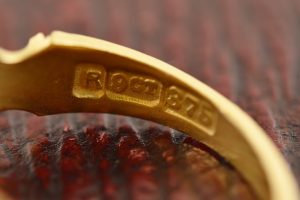 Three distinct hallmarks are stamped inside the shank of this English ring.  It's a wonderful example of fine antique jewelry.  Previously priced at $850.00, this piece is available now for just $675.00!  
"Go to our site and look, then come to us and touch."
Written by Carrie Martin
Photos by Dana Jerpe and Shelly Isacco