Joden Girl
 Baubles, Bling, and Valentine Things
It seems like we have no more than packed up our Christmas decorations before Valentine's Day is upon us.  The Christmas clearance items are on the shelves right beside the boxes of children's Valentine cards.  For me, it's exciting!  Valentine's Day has always been my favorite holiday – I love the sentimentality of it.  And from everything that I've been reading, most of you feel the same way.  Ladies aren't expecting expensive gifts, they are hoping for a meaningful gift.
Last year, the average amount spent on Valentine's Day rang in at just under $150.00…  unfortunately, in today's world, $150 doesn't buy all that much.  Here's where Joden comes in.  One of the things that a lot of people don't know about us is that we truly have something for everyone.  We have a lot of really great pieces that cost less than $100. 

This photo is just one small example of what's available at Joden.  The four rings pictured here range from $50-$150.00.  We also have countless pendants, earrings, and bracelets available in the same range.  So, if you're looking for a Valentine's Gift that will outlast the candy and flowers but won't break the bank – come to Joden.
For those of you who are looking to spend a little more, we have that too.  We recently bought a couple items that are absolutely perfect for Valentine's Day or any day.  What better way to tell her she's the Queen of your heart than with this beautiful crown ring from Garrard?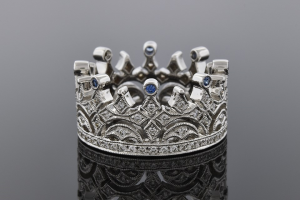 This unique eternity ring is constructed from 18 karat white gold.  The intricate design is interspersed with tiny round melee diamonds and each point is crowned with a brilliant blue sapphire.  Priced at just under $3000, it's fit for royalty.
I fell in love with these charming crown earrings the moment I saw them.  Each pair is made in 14 karat white gold accented with diamonds.  The pair on the left have Tsavorite (green) Garnet trim and the pair on the right  have Sapphire trim.  These beauties are priced at $900 a pair.  They give a fresh spin to ordinary diamond earrings. 
The possibilities are endless.  With Valentine's Day just around the corner, Joden is the place for you.
Send all your love, comments, and questions to carrie@joden.com.
"Go to our site and look, then come to Joden and touch."
Written by Carrie Martin
Photos by Shelly Isacco