Joden Girl
Frankincense, Gold, and Myrhh
"When they saw the star, they rejoiced with great delight.  On coming to the house, they saw the Child with His mother Mary, and they fell down and worshipped Him.  Then they opened their treasures and presented Him with gifts of gold and frankincense and myrhh."  Matthew 2:10-11
I cannot think of a better gift to end our series "The Twelve Gifts of Christmas" than a gift fit for a King…  gold.
For thousands of years, gold has been used to create beautiful baubles.  The attraction of it is undeniable…  the rich buttery color,  that high polish that is so alluring, and the feeling as it warms to your skin when draped around your neck.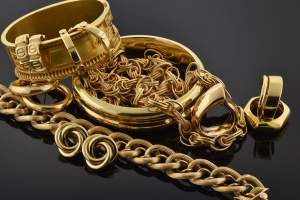 Stacks of bangles, shiny hoops both small and large, chains of every variety from long to short, stylish link braclets, and of course, rings.  At Joden, the selection is dazzling.  And the price range is vast, truly something for everyone. 
Each of these three pieces is available on our website, each one offers its own unique appeal, each one is a perfect Christmas gift.
First we have a lovely Retro brooch.  This authentic piece from the 1940's is a distinctive swirl of 14 karat yellow and rose gold.  At just 1.25 inches, it is the perfect size for any lapel or collar.  It is available on our website now for only $325.00.
In the center, we have a 22 karat yellow gold vintage ring.  This charming heart-shaped ring is adorned with a delicate pattern of flowers and vines.  We all know how I feel about hearts, however, there is no denying that this ring is something quite special.  Check it out now on our website for just $640.00.
Finally, we have these awesome Victorian tassel earrings.  These statement earrings are amazing in the ear – the tassels move with you, creating a fantastic look.  They are also available on our website now – a steal at just $675.00.
 Find each of these things and so much more in our showroom at Joden Jewelers.  This is our last night of holiday hours.  We will be open until 8pm tonight with select hours tomorrow.  As always, our website is available 24/7 with free overnight shipping. 
Go to our site and look, then come to Joden and touch.
Merry Christmas from our house to yours. 
Written by Carrie Martin
Photos by Shelly Isacco