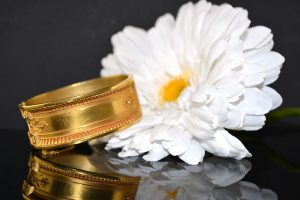 Joden Girl
Baubles, Bling, and Recycled Things
Beauty has been defined and redefined in thousands of ways.  Jewelry is often the subject of those definitions.  Designers and style icons offer ideas of what is on trend for the season.  But, are they truly fresh, new ideas?  Or are styles simply reworked and brought back to life?  The vintage jewelry at Joden is a constant reminder that every style is a throwback.  A revival, if you will.
The bracelet pictured above is no exception.  Known as Etruscan Revival, the style of this piece is timeless.  Original Etruscan jewelry dates back to the 3rd and 4th centuries, however, this piece wasn't crafted until the end of the 19th century, during the 1890's.
I don't know when we acquired this bracelet… but I know that I have clasped it around my wrist at least a dozen times.  I have admired the matte finish of the brassy yellow gold, expressed a secret smile over the small daisy-like flowers, and I have carefully run my fingernail over the tiny rows of beads that create the delicate design.
Granulation is a form of gold work in which tiny beads of high karat gold are applied in geometric or linear patterns to a high karat gold surface.  It is utilized to perfection in this classic piece.  The natural warmth and richness of the metal speaks for itself, no gemstones or other ornamentation is needed.
This bracelet, a true antique, is on point with jewelry trends for this season.  It's a statement bangle, no layering is required here.  It would be a truly spectacular addition to any wardrobe; perfect for a night out or able to be worn every day.  Come in and try it for yourself.
"You can go to a museum and look, or you can come to us and touch."
Written by Carrie Martin
Be the first to see the next blog. Sign up now.