Joden Girl
Baubles, Bling and Beaded Things
With an inventory like ours, where the cases are filled to overflowing – there are always choices.  If you're looking for a sapphire ring, we won't have just one, more likely we will have one hundred.  Joe often boasts that the most unique aspect of Joden is that we truly have something for everyone and every budget.  If you visit our showroom we guarantee you'll fall in love.  
It was no surprise to me that within our treasure chest of gems and jewels we have more a handful of Etruscan revival bracelets – my two favorites are available at joden.com.  They shared marked similarities and yet each has its own individual personality.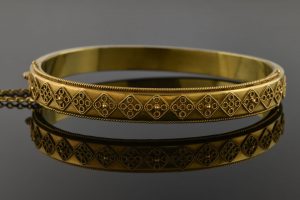 First, we have this beauty.  Measuring approximately 3/8 of an inch wide, this 15 karat gold bangle is made to wear. 
The top half features classic Etruscan granulation decor – fifteen quatrefoil shapes arch artfully across the wrist.  Two parallel milgrain borders complete the look.  It's hinged, offering a securely snapping clasp as well as a safety chain.  The pattern is ornate and yet simple enough to wear every day.  It could easily become your signature piece, priced at $1,580.00.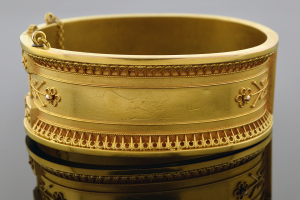 And then we have this charmer.  It's 7/8 of an inch of golden deliciousness.  A tiny ornate border highlights the outer edges and a singular delicate flower blooms on the exterior perimeter.  
Much like the other bangle, this bracelet blend seamlessly into any wardrobe.  It pairs perfectly with everything from jeans to dresses, a go-to adornment for every occasion!  Priced at $3,150.00, it's a signature piece that you will enjoy for a lifetime.
And so I ask you, which would you choose?  This narrow quatrefoil embellished bangle or that wide golden beauty with floral decor?  This or that?
"You can go to our site and look, then come to us and touch."
Written by Carrie Martin
Photos by Dana Jerpe