Joden Girl
Baubles, Bling and Birthstone Things
"The lovely aquamarine, which seems to have come from some mermaid's treasure house. 
In the depths of a summer sea, has charms not to be denied."
– Pliny the Elder
Named for its hypnotic color, aquamarine is the March birthstone and undeniably one of the most desirable of all gems.  It was aptly dubbed after the Latin term for seawater – and it could not be a more appropriate name.  Found in every shade from the palest powder hue to a deep greenish blue, each one evokes visions of the ocean. Whether you prefer aquamarine in the sparkling clear blue tone of Caribbean waters or the rich turquoise blue of the Mariana Trench – this beauty is sure to dazzle.  
Gaining popularity at the end of the 19th century, aquamarine began popping up in late Victorian jewelry, like this lovely lavalier pendant.  Constructed from 15-karat yellow gold, this English piece is absolute perfection from top to bottom.  One round aquamarine rests in a milgrain-accented bezel from which a dramatic drop dangles freely.  Resembling an elongated triangle, the open-work design showcases yet another bezel set aquamarine.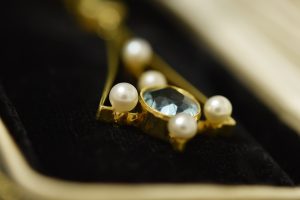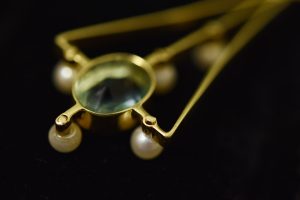 Combined these two stones have a total weight of approximately 2.50 carats.  Accenting the oval aqua at the North, South, East and West points are four petite pearls.  A fifth creamy pearl sits higher in the mounting near the peak of the triangle.  Suspended from a sixteen-inch chain, the pendant rests beautifully just below the base of the throat.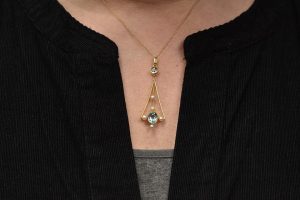 This necklace pairs perfectly with everything from denim to silk; it transitions seamlessly from a day at the office to date night out!  A picture of sophisticated elegance, this Victorian necklace is also an ideal choice to celebrate a March birthday.  Moderately priced at $1,750.00 – it's available in our showroom today. 
"You can go to a museum and look, or come to us and touch."
Written by Carrie Martin
Photos by Dana Jerpe