Joden Girl
Baubles, Bling and Bold Things
Evidence of ornamental jewelry dates back thousands of years…  in fact, an ancient stone bracelet was discovered in Siberia – incredibly, it is believed to be more than 40,000 years old!  There are at least three different kinds of wrist candy – bracelets, bangles and cuffs.  In the most general sense, a bracelet is jewelry that is worn around the wrist.  Most often, when someone describes a bracelet, they are referring to a flexible type of link that has a clasp.  The other two types (bangle and cuff) are descriptive terms added to the word "bracelet" to further define the style.  
Bangle bracelet – jewelry that goes fully around the wrist, a complete circle.  Some are hinged while others are solid.  
Cuff bracelet – this design is also solid, but features an opening that allows you to put it on your wrist.  Most are designed to be worn with the space on the bottom, but some can be worn open side up.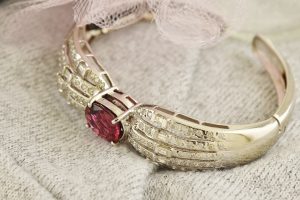 One of the hottest trends for fall is a statement cuff.  We've talked a lot about statement jewelry.  These are pieces that make a strong visual impact – they're often large and over-the-top, demanding attention.  New to our estate department is this modern bejeweled cuff bracelet.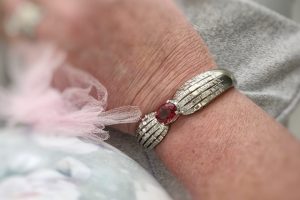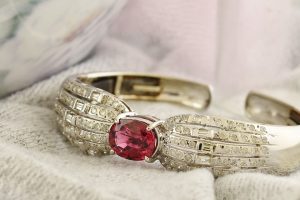 Made from 14-karat white gold, this cuff is double-hinged ensuring ease of wear.  The center is fitted with one oval pink tourmaline.  This bubblegum-colored gemstone is the alternate birthstone for the month of October (the original is opal).  It was added to the list of birthstones in 1952.  Tourmaline is believed to release tension and promote happiness, the one showcased within this cuff weighs approximately 4.00 carats.  Set in rows on either side of the center are 150 round brilliant diamonds and twelve baguette diamonds that have a combined weight of 4.25 carats.  It's a steal of a deal at just $4500.
However, with yellow gold on the rise, we have to wonder what you think of this unique white gold cuff.  Opinions vary and styles change…  and so, we just have to ask.  Is this cuff bracelet hot?  Or not?  Would you put aside a narrow stack of bangles in favor of this singular piece?  Jump over to our Instagram story to weigh in!
"You can go to a museum and look, or come to us and touch."
Written by Carrie Martin
Photos by Dana Jerpe