Joden Girl
Baubles, Bling, and Harmonious Rings
Check out these beauties!  One for the ladies and one for the gents…  this pair of rings is Art Deco inspired deliciousness.  Bright white gold, elaborate engraving, sparkling diamonds and a pop of blue sapphire all sing in sweet harmony.  The eye hardly knows where to look first, but let's give it a try.
Ladies before gentlemen, as the saying goes.  Although this ring may look like it's right out of the 1920's, it's actually a modern marvel designed by Beverley K, an award-winning manufacturer of graceful and feminine jewelry.  A dazzling white 1.00 carat round brilliant diamond is fitted between a pair of rectangular french cut blue sapphires that weigh .16 carats.  Surrounding the center trio are eighteen single cut diamonds that have a combined total weight of .17 carats.  Tiny beaded edges (also known as millegrain) and intricate engraving succeed in amping up the vintage volume.  This ring is currently listed on our website for $4200. 
***For a limited time only***
Give us a call, mention this blog and this stunning Beverley K ring can be yours for just $3700!***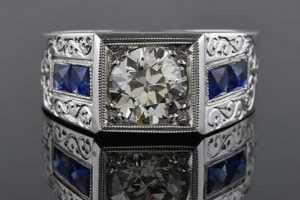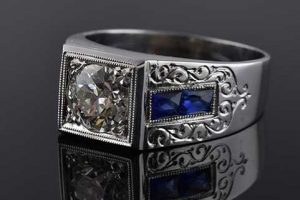 Last, but certainly not least is this beautiful gents ring.  It, too, feels very Art Deco.  But just like the lady's ring above, this is a more modern piece.  Crafted during the 1950's from 14 karat white gold, this gem features killer design elements that make it the ideal complement to our lady's piece.  Check out the double millegrain border that highlights the center diamond!  And what a diamond it is…  weighing in at 1.53 carats, it catches the light from every angle.  Four french cut synthetic sapphires bring an element of color to the artful engraving the swirls down each shoulder.  Everything about this ring screams classic elegance…  make it your for just $10,500.
I love the idea of some lucky couple making these twinning counterparts into their wedding rings or anniversary bands.  If that doesn't happen, then I look forward to someone making either of these Art Deco-inspired works into an heirloom of the future.  Let our experts at Joden Jewelers help you make memories of your own.
You can go to a museum and look, or come to us and touch.
Written by Carrie Martin
Photos by Dana Jerpe