Joden Girl
Baubles, Bling, and a Pink Ring
Recently, girls have been going crazy for rose gold engagment rings – and I totally get it.  The soft pink glow of the metal is warm, romantic, and utterly feminine.  What could be more girly than a pink ring?  This matched set utilizes rose gold and dainty details to perfection.
The alternating "navette-round-navette-round" pattern of the band creates a delightful scalloped edge.  It pairs flawlessly with the beaded millegrain border.  Together, these delicate design elements give a vintage vibe to an otherwise modern set.  
While this suite certainly looks fantastic on its own, I wondered how it might look in a tiny stack.  That thought sent me on a journey, and here's what I discovered…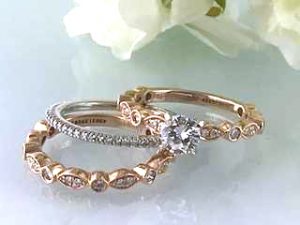 I love it even more with this white gold eternity band nestled between the rose gold rings.  I adore the contrast provided by the cool white metal…  and the additional 53 diamonds amp up the bling!  Here's the scoop on all three pieces.  First, we have the original pair – two 18 karat rose gold rings with a .58 carat round brilliant center stone.  The 37 diamonds set in the scalloped bands add an additional .50 carat…  moderately priced at $4500 for both. 
If you're like me, you'll have to add that third ring!  It's an 18 karat white gold eternity band made in a "shared prong" style.  This band is set with 53 full cut round diamonds that have a total weight of .31 carats for $1600.   
These, and many other rose gold engagement rings are available on our site and in our showroom.  As always…
"Go to our site and look, then come to Joden and touch."
Written by Carrie Martin
Photos by Shelly Isacco and Carrie Martin