Joden Girl
Baubles, Bling and  Nostalgic Things
Sometimes, in the jewelry world – the word reproduction carries a bit of a stigma.  A modern facsimile is not always as desirable as an antique original.  There's no question that a mint condition, one hundred-year-old Edwardian filigree ring is worth more than the mere rocks and metal that it's made from.   The age and rarity of the piece amp up the value, and like most antiques…  condition is everything.  Finding a pristine gem from the early 1900's can be challenging to say the least.  Sometimes a modern lookalike is the perfect fit.
Clever wordplay and marketing genius has helped to change the opinion of copycat jewels.  The phrase "Art Deco Inspired" has a distinctly romantic feel to it – much better than "reproduction"!  At Joden, we pride ourselves on the broad range of our inventory; we often boast about having something for everyone and every budget.  But it's not bragging if it's true!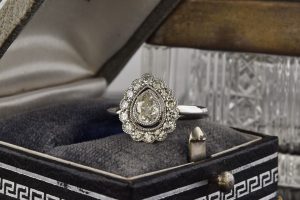 The halo on this little angel is comprised of fourteen single-cut diamonds.  These uniquely faceted stones feature just seventeen facets and were commonly used in Edwardian and Art Deco jewelry.  The ring is made entirely of platinum, with delicate milgrain beaded edges bordering every stone.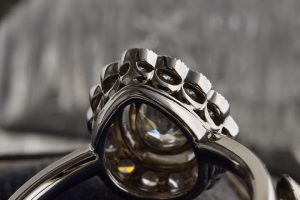 Sitting center stage is an authentic old-cut pear-shape diamond that weighs .42 carat.  With a color grade of I and a clarity grade of VS – this dazzling beauty is the crowning glory of this modern marvel.  Originally priced at $3,500 – we are now offering it for just $2,625.  
Maybe pear-shapes aren't for you…  not to worry, we've got you covered. 
This sweet gem is very similar to the first one, but at the same time…  it's different.  Also made from platinum, it features fourteen single-cut diamonds in the halo – but this halo is cushion-shaped with a European cut diamond in the heart.  This Euro weighs .41 carat – it's a bright G color and a VS clarity.  I love the round center with the cushion-shaped halo…  it's unexpected and oh-so charming.  Previously priced at $4,225 – this beauty is now available for just $3,168.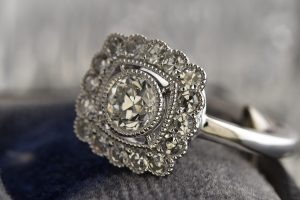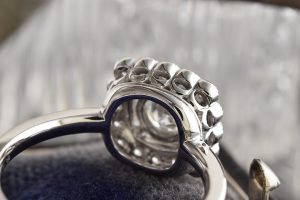 My favorite detail of both rings is a small and easily over-looked element.  Between the center stones and the surrounding halo is a small space, room to breathe.  It's a breath of fresh air.  And right now, let's face it…  we could all use a little break and a whole lot of fresh air.  These rings are not on our site – call for details or stop by for a tiny bit of jewelry therapy.
"You can go to a museum and look, or come to us and touch."
Written by Carrie Martin
Photos by Dana Jerpe