Joden Girl
Baubles, Bling, and Primitive Things
I have several necklaces littering the bottom of my jewelry box… three or four conversion pieces, a few tiny pendants and countless charms.  Each one is special in it's own way – but none of them are what I would call a statement piece.  They are nothing like the two showstoppers featured here.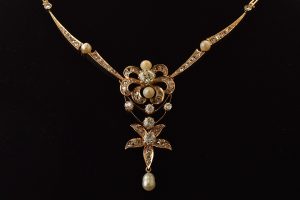 This beauty dates back to the late Victorian period, circa 1880.  The high karat gold shines with a rosy glow on each articulated link, hand set with glittering diamonds of both rose and old mine cut varieties.  Five natural pearls add a soft, romantic feel.  I love the botanical vibe created by the six-petaled blossom at the top and the smaller flower at the bottom.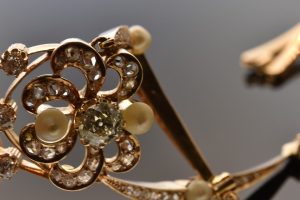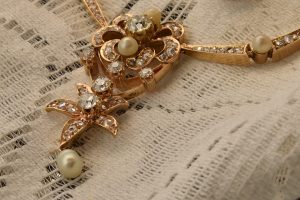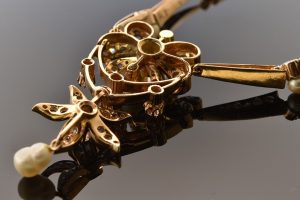 With a total of 3.00 carats of diamond weight, the impact of this piece can be felt even from a distance.  Although rose cut diamonds don't have the precise symmetry of their modern counterparts, the scintillation (or sparkle) is dazzling.  Primitive rose cuts were developed in the 1500's; and even now, more than 600 years later, their appeal is undeniable.  These flat-backed gems are most known for their rounded crown of faceting, utilizing anything from three to twenty-four facets.  Each of these flat surfaces effectively reflects light back to the eye…  although Victorians much preferred candle light.  Make a statement in your wardrobe with this piece for $5,750.00.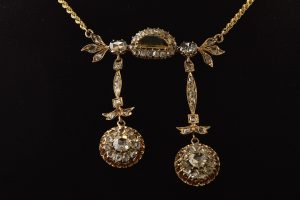 Or perhaps this negligee style necklace is more to your liking, it's a mid-Victorian diamond bar with a pair of asymmetrical drops suspended from it.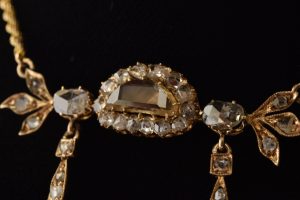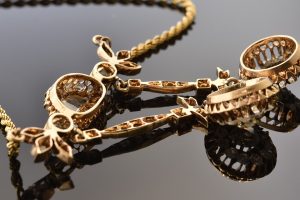 A half-moon shaped mirror-cut diamond sits center stage surrounded by a halo of rose cuts.  The two drops end with a pair of identical round clusters that are set with twelve rose cut diamonds each.  Four small bow-like accents add even more flair to this beauty.  There are thirty-one stones in all for a total of three carats!  The variance in size and shape of these diamonds make it quite rare as well as valuable.  Although the rose cut had a decline in popularity at the beginning of the 20th century, these early examples are now commanding premium prices.  This one can be yours for $8,500.00.
At Joden, we are known for statement pieces.  Our curated collection of antique and estate jewelry is overflowing with fine period gems.  After nearly fifty years, our motto continues to hold true…
"You can go to a museum and look, or come to Joden and touch."
Written by Carrie Martin
Photos by Dana Jerpe