Joden Girl
Baubles, Bling and Enchanting Things
Near the end of the Victorian era, a new style began to emerge.  Offering an organic flair with flowing lines and soft feminine appeal, the Art Nouveau era boasts some of the finest jewelry from the turn of the century.  With celebrated artisans like René Lalique leading the way, the world was captivated by these visual masterpieces.
Reveling in nature, this era honored all the fine points of our environment.  From the tiniest of blossoms to the most voluptuous flower – these elements have been forever captured in the true artistry of the Art Nouveau era.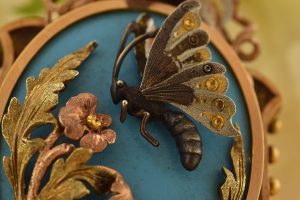 This stately piece is an Art Nouveau dream.  Made from multicolored gold, this brooch is full of charming details.  Made in three-dimensional style, each element rises off the surface.  Creating the perfect blue sky background is a smooth bright oval turquoise.  Hovering above a rose, yellow and green gold flower is a butterfly.  The detail of this insect is incredible… from the tip of the antennae to the spots on the wings, he is quite impressive.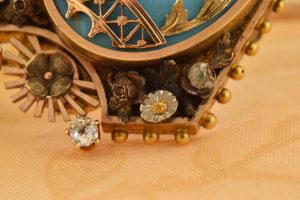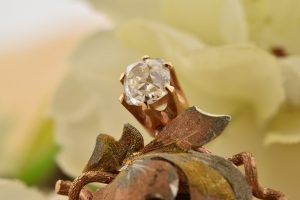 Every inch of this grand beauty showcases the magic of the Art Nouveau period.  There are various different flowers and leaves – each one more lovely than the last.  Three Old Mne Cut diamonds are featured, one at the top and two at the base.  These three diamonds have a combined weight of approximately .50 carat.  Gemstones and diamonds were used sparingly in this era, allowing the gold work to shine.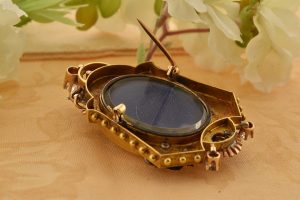 A hair receiver completes the back.  With the original silken blue fabric still held within, this compartment remains unused.  Moderately priced at $6500, this magnificent work of art is available now. 
"You can go to a museum and look, or come to us and touch."
Ownership possibilities available.
Written by Carrie Martin
Photos by Dana Jerpe