Joden Girl
Baubles, Bling and Filigree Things
I know, I know…  more filigree rings.  How many of these delicate darlings can there possibly be?  Over the years we have shared more than a few, it's true.  BUT – these two are brand new to our antique & estate department and both offer unique, charming details.  I couldn't resist the opportunity bring you something lovely AND affordable.
First, let's chat about this one…
Made entirely of 18-karat white gold, this beauty is simply lovely.  The ring itself was constructed in the 1920's.  The overall shape is interesting – with subtle concave areas, a sculptural structure develops.  The filigree pattern offers a underlying botanical vibe that plays nicely with the softly rounded form.  Set within an octagonal plate, the center diamond is unexpected – it's a modern cut diamond.  Weighing approximately .45 carat, this bright gem brings all the shine.  This ring could be a marriage of an antique ring and a round brilliant diamond, it could be a remount – the possibilities are endless.  New to our shop and our site, this ring is priced right at $975.00.
Moving on to this petite princess..
Another 18-karat white gold dazzler, this little cutie is just so good.  The decoration wraps a whimsy of whorls and swirls around the slender silhouette.  Milgrain beaded edges highlight every line.  Culminating into a four-sided top, one Old Mine Cut diamond gleams from between a pair of man-made sapphires.  This diamond weighs approximately .15 carat.  It's the crowning glory for this 1925 dream.  Also new to our site, this ring is priced at just $475.00.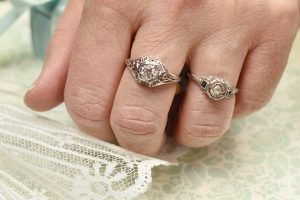 Shown together on the hand, this delicate darling pairs beautifully with that dainty dreamboat.  I'm excited to offer both of them… and can't wait to hear which you would choose.  This modern-meets-vintage vision or that sapphire-trimmed treasure?  Perhaps with pricing like this, there's no need to choose.  Take them both!
"You can go to a museum and look, or come to us and touch."
Written by Carrie Martin
Photos by Dana Jerpe