Joden Girl
Baubles, Bling and Garnet Things
It's January.  Here, in Western Pennsylvania, that  translates to bitter cold weather with wind that hurts your face.  I couldn't resist talking about this month's birthstone…  the garnet!  In it's most well known form, this glorious stone is a deep red.  When the sun hits it, it glows with shades of orange and brown…  like an inner flame.  The rich tones almost make these brisk days feel a bit warmer.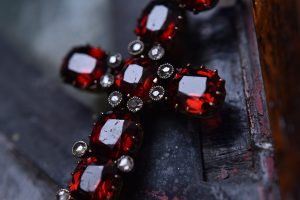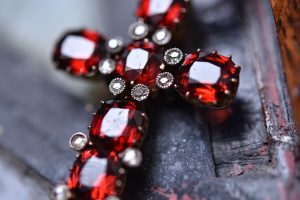 Check out these two photos.  Both showcase a beautiful antique garnet cross…  but, in the second picture, you can truly appreciate the tonal quality of the gemstones with the light reflecting off the surface of each stone.  It lights up from the inside.  
The cross itself is something to behold.  Made in the Mid-Victorian Period (in the 1860's), it's a perfect combination of 9 karat yellow gold and silver.  There are ten cushion cut garnets, each one clasped within yellow gold claw prongs and sixteen silver bezels that feature tiny rose cut diamonds.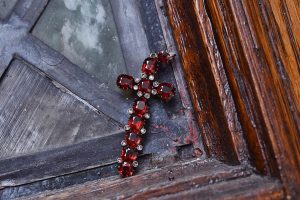 Birthstones have been traced back to the Bible – originally woven into a protective breastplate worn by Aaron, created by his brother Moses.  Each stone represented the tribes of Israel and each was thought to have talismanic and therapeutic properties.  In 1912, The Jewelers of America took this information (with some changes) as a basis for the birthstones we still use today. 
Garnet is a true natural beauty, with no known treatments.  It's suitable for daily wear, and many believe it to be a symbol of wellness and good fortune.  The cross is the ultimate symbol of love and the Christian faith.  It speaks not only of what has been lost but more importantly, all that has been gained.  Many believers cherish their religious beliefs reverently inside while others choose to wear outward proof around their neck.  If you belong to the latter group, make this gem yours for just $2,320.00.  
"You can go to a museum and look, or come to Joden and touch."
Written by Carrie Martin
Photos by Dana Jerpe