Joden Girl
Baubles, Bling and Remembered Things
I was at work.  I remember running back and forth across the street to Burdick's (a local clothing store) because they had a television.  Joe and I stood side by side, staring at the screen – it's one of the most surreal moments of my life.  It was September 11, 2001.  I'm certain that each of you knows where you were, too.
Nearly 3000 lives were lost that day, each one remembered in a million different ways.  My husband and I visited Ground Zero in the fall of 2002.  The fence surrounding it was covered with cards, photos and hand-written notes.  Children's drawings, flowers and memorabilia were everywhere we looked.  To say it moved me to tears is accurate but so very inadequate.  I wanted some small thing to remember those moments, something tangible to hold in my hand.  Ultimately, I ended up with just a few tiny rocks that I gathered from the edge of the sidewalk.  I still have them.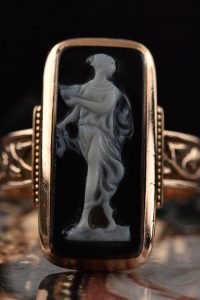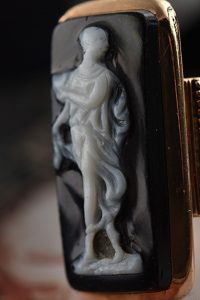 Victorians had a better idea – mourning jewelry.  Rings, pendants, and bracelets were the most common types of this nostalgic artistry.  Memorial pieces had popped up here and there during the 1800's, but the trend gained momentum with the death of Prince Albert – Queen Victoria vowed that she would wear nothing but black to express her deep bereavement.  Even her jewelry was black. The concept caught on with the rest of the country.  At Joden, we have quite a collection of these sentimental dedications.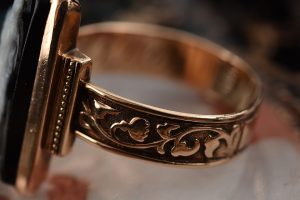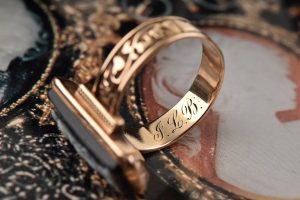 This sweet little cameo ring may have been an early piece of mourning jewelry – crafted in the 1860's.  Made from a rosy 14 karat yellow gold, this intricate ring centers on a hard stone cameo.  The figure depicted is of a woman carrying a vessel.  It's carved from a singular piece of banded black and white agate.  The band portion of the ring is decorated with vines and blossoms.  Inside the band are three hand-engraved initials…  JLB.  It's priced at $875.00.  
Through photographs, videos, and memories, our loved ones live on.  But imagine having a piece of jewelry, a talisman that will be handed down in your family year after year.  And every time you look at it and rub your fingers across the top of it (like a worry stone), you'll remember and your heart will smile.  
Written by Carrie Martin
Photos by Dana Jerpe