Joden Girl
Baubles, Bling, and Scottish Things
About fifteen years ago, I read a book called "Outlander" – written by Diana Gabaldon.  (I highly recommend it to any and all!)  It changed my life.  Not only did I fall in love with the series, but I also fell in love with all things Scottish – naturally, that included the jewelry.
Most of the Scottish pieces that we have at Joden are brooches, like the one pictured below.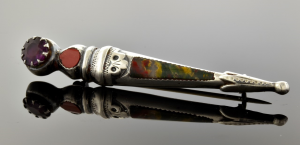 This type of jewelry is often referred to as "Scottish Pebble Jewelry" – dubbed as such by Queen Victoria.  She and Prince Albert visited Scotland for the first time in 1842.  They were enchanted by the beautiful country.  After returning home, Victoria began gifting friends and family alike with tartans and Highland style gifts – primarily jewelry.  Most of this jewelry was constructed of intricately carved sterling silver set with the pebbles of Scotland…  also known as Agate.  These colorful stones were precisely fitted to the jewels made in the shape of Celtic knots, shields, crests, and dirks.
This (pictured below) is a silver agate Dirk brooch.  It was designed after a traditional dagger and sheath, and actually gives the appearance of three blades, each one accented on its hilt with a faceted round citrine.  The remainder of this piece is set with Bloodstone, Red Jasper, and Montrose Lace – all forms of agate, or Scottish Pebbles.  Circa 1890.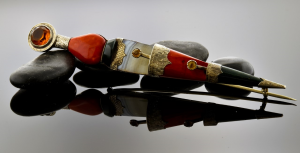 Another notable piece at Joden is this vintage Cloak pin (shown below).  The head of each pin is perfectly assembled from six different colors of carved and polished agate.  The two pins are then connected by a series of ten octagonal pieces of agate.  Its and explosion of color and texture.  Circa 1880.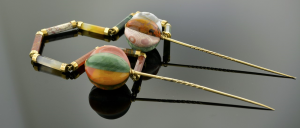 Due to the huge demand, English jewelers began making pieces in the same style.  Initially, they stayed true to the Scottish motif, but over time, the jewelry began to take on a distinctly English feel.  The agate that was originally from Scotland was replaced with stones from other areas.  And while the spirit of the jewelry remained largely the same, the quality waned.  Pieces produced after WWII (like the ones pictured below), while lovely, do not exhibit the craftsmanship of the ones made during the Victorian era.
So, if you're an Outlander fan like me, or if you love Scottish Pebble jewelry, come visit us at Joden.
"You can go to a museum and look, or you can come to us and touch."
Written by Carrie Martin
Photos by Carla Leight