Joden Girl
Baubles, Bling, and A Collector's Things
On February 9, 1840, Albert gifted Victoria with a stunning and now iconic brooch.  Featuring a glorious sapphire center (the weight of this stone has never been revealed to the public!) surrounded by twelve diamonds, it was her "something blue" for the wedding ceremony.  In the years since, Queen Elizabeth has been spotted wearing this historic heirloom.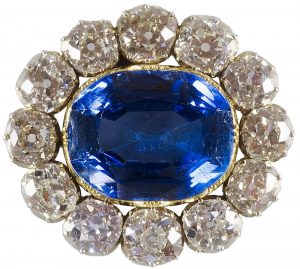 141 years later on February 3, Charles proposed to Diana with a ring that bears a strong resemblance to the brooch.  Chosen from a catalog at Garrard, this was not a custom piece but rather a ring available for anyone to purchase.  It was rumored that Diana selected the ring because of it's striking resemblance to Victoria's famous brooch.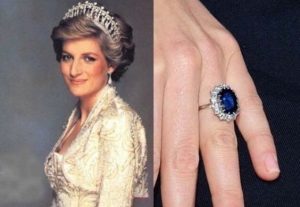 This week, from Joe's Special Box, we have an antique ring that is giving us all the feels.  It bears a strong likeness to both pieces…
Made from 14 karat yellow gold, this tiny treasure boasts an oval 1.00 carat natural blue sapphire in the center.  This deep azure beauty is completely surrounded by a ring of twelve Old Mine Cut diamonds that have a combined weight of .45 carat.  Made in the 1880's, near the end of the Victorian period, this ring is a dainty size 3.  
If you have an affinity for royal style and would like to nab a similar piece for yourself – hop on over to our website.  Priced at just $1,200, this precious prize won't last long!
"You can go to a museum and look, or come to us and touch."
Written by Carrie Martin
Photos by Dana Jerpe and other internet sources