Joden Girl
Baubles, Bling, and a Super Sweet Ring
If ever there were a perfect mother's ring for me – this is it!  My boys were born in April and May, making their birthstones diamond and emerald, respectively.  I have never wanted a family ring (at least not in the old-fashioned sense) and I am not usually a fan of emeralds.  BUT seriously!  This is a showstopping, eye-popping beauty.  It practically jumps off the finger.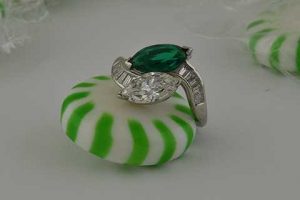 The classic two-stone twin bypass design is done to perfection with a pair of marquise brilliant cut stones.  First, we have a gem fine bright green emerald (probably Columbian).  This is a natural stone – no lab-grown emeralds for us!   This color can only be described as emerald green – and the clarity!  Not a spot to be seen!  This quality is rare, and quite hard to find.  Not to be outdone, check out that diamond.  It weighs in at 1.09 carats.  The high white tone is the ideal complement to the glowing green of the emerald.  What a combination!  Ten baguette cut diamonds arch up each side of the band, creating an elegant swirl of sparkle.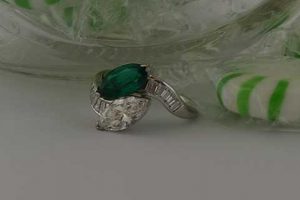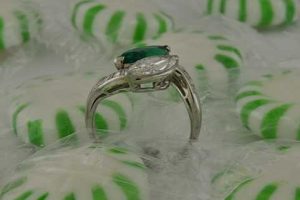 Made entirely of platinum, this bauble brings the bling.  It's from our estate collection – pre-owned, but not antique.  Most likely made in the late 1960's or early 1970's, this is one cocktail ring you don't want to miss.  Fancy shaped diamonds are making quite a splash this year, but there's no doubt the marquise is reigning supreme.  Add this one to your wardrobe today…  it's priced to sell at $17,500.  Call me for additional details.  Dial 800.747.7552 and ask for Joden Girl.  ♥
You can go to a museum and look, or come to Joden and touch.
Written by Carrie Martin
Photos by Dana Jerpe