Joden Girl
Baubles, Bling, and Square Things
The corners have worn off the vintage red leather.  The ivory satin lining is tinged with age, rendering the gold lettering barely legible.  The crushed velvet is perfectly contoured to the piece it was created for.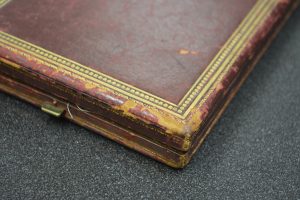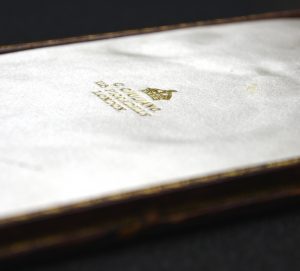 Each box is nestled into the plush lining of the showcase; many of these boxes are as valuable as the heirlooms they hold.
The antique cases are juxtaposed with rows of sleek, modern black boxes; the Joden name is stamped in brilliant gold Copperplate lettering on the lid.  They are pristine in their newness, filling the shelves beneath the cases – waiting to be filled. 
Each of these boxes are an essential element of the Joden charm, meant to intrigue and delight customers, but neither is as critical to our business as the cardboard boxes.  If you have visited our shop, perhaps you know what I'm talking about.  Ordinary looking from the outside, each box has a handwritten label that identifies its contents: Bracelets, Pins, even Antique.  Virtually every one has been repaired time and again.  The paper coverings are worn to a soft patina…  the result of passing through our hands thousands of times.  These boxes are the heart of Joden Jewelers.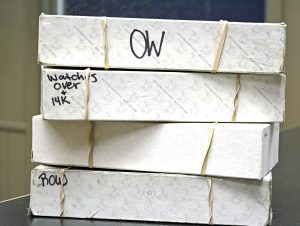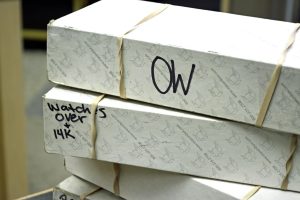 We encourage customers to sort through them…  "Dig in!"  It's like sifting through your grandmother's jewelry box.  Every piece is more appealing than the last, Victorian carved cameos, delicate filigree brooches, and hundred-year-old engagement rings.  It's a miniature treasure hunt, a feast for the eyes.  Imagine stacks of cardboard boxes, splitting at the seams with fine antique and modern treasures.  Something is waiting for you to discover it.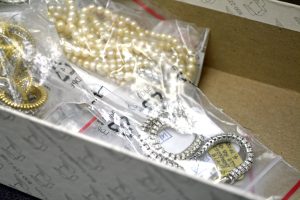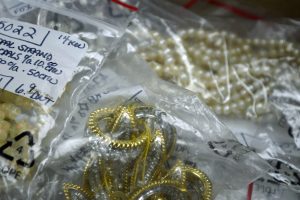 "You can go to a museum and look, or you can come to us and touch."
Written by Carrie Martin