Joden Girl
Baubles, Bling, and Commendable Things
For nearly twenty years we have traveled across the country to convene with more than 400 other dealers at the Las Vegas Antique Jewelry and Watch Show, the largest trade only event servicing the antique jewelry industry.  The Hall of the Las Vegas Convention Center will be bursting with leading experts from more than 25 countries and the absolute finest estate jewelry in the world – truly the best of the best. 

This is the banner that will be at the entrance to the show.  The necklace is ours – a stunning piece from our Carlo Giuliano collection.  This is not paid advertising – in fact, it's more like the spoils at the end of a hard fought battle.  Each exhibitor submitted digital images from their stockpile.  The marketing team for the show poured through thousands of submissions searching for the perfect pieces to use in the artwork for the show.  We submitted over 50 breathtaking likenesses, including this one…  the chosen piece.
This is a multicolored enamel pendant from the heart of the Art Nouveau period (1890-1910).  Blue, white and translucent red enamel marry with pearls and Old Mine Cut diamonds on an elaborate frame of scrollwork and quatrefoil flowers… a masterpiece crafted by a master jeweler.  The price is available upon request.
We were thrilled to see our pendant on the banner – the first small victory.  The real prize came about a week later.  We were absolutely over the moon to discover that another one of our Giuliano gems will adorn the front cover of the brochure!  Again, this is not advertising that can be bought.  It is an honor bestowed upon the jeweler with the most magnificent piece in the show.  This is the fourth time that Joden has been recognized in this manner.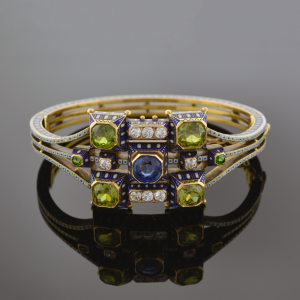 This bangle bracelet (Art Nouveau, circa 1890) is signed C & AG.  It was a collaboration of Carlo Giuliano (the father) and Carlo and Arthur Giuliano (his two sons).  The center of the bracelet is an explosion of color featuring blue sapphire, peridot, tsavorite and diamonds while the rest of the piece is enameled in classic Giuliano style – blue and white opaque enamel done in both pique and champlevé styles.  It's a real show stopper!
Many experts consider Giuliano to be the finest jeweler of all time.  One of his most famous patrons was Queen Victoria.  Rumor has it that his pieces were among her favorites.  We have been lucky enough to amass a 26 piece Giuliano collection – the largest assembly of his work in this part of the country.  All 26 pieces are on display every day in our museum case, and each one is highlighted on our site. 
There is no question,  you can go to a museum and look or you can come to Joden and touch.
Written by Carrie Martin
Photos by Shelly Isacco