Joden Girl
Baubles, Bling, and Quality Things
Typically, I'm not a label girl.  I have clothes and shoes from every store out there.  For me, it's all about style.  Sometimes – the style comes with the name.  When you're looking at jewelry, that is usually the case… especially when the name is "Tiffany" or "Cartier".  In our estate department, at Joden, we have several pieces made by these renowned designers.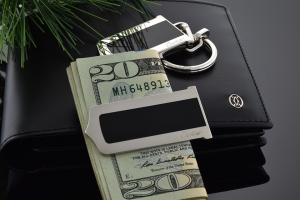 The photo above shows a collection of fine mens accessories made by the legendary jeweler "Cartier".  There is a high quality black leather bifold wallet for $450.  We also have a simple and understated "Cartier" keychain made from Stainless Steel with black lacquer – priced at just $220 and the matching money clip is available for $220 as well.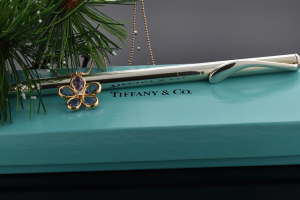 Every girl knows about the little blue box.  This little blue box holds a stylish sterling silver "Tiffany & Co." pen.  It is the Elsa Peretti retractable ballpoint pen – a perfect stocking stuffer selling at just $95.00.  The lovely pendant draped over the pen is also made by "Tiffany".  It is crafted from 18 karat rose gold and holds over three carats of lavender amethyst.  It is available on our website for just $750.00.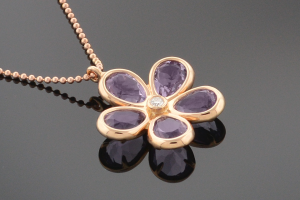 If you were thinking diamonds for Christmas, we have something for you as well…  this classic platinum solitaire ring would be stunning on any girl's finger.  Handmade by "Tiffany & Co.", it holds a .30 carat diamond in six sleek prongs.  Simplicity at it's finest for just $2500.00.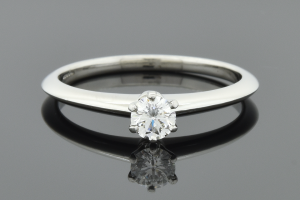 Each of these pieces is available in our showroom.  We are offering holiday hours all this week.  Stop in Monday through Friday until 8:00pm, we are also open select hours on Christmas Eve.  As always, our website is available 24/7 with overnight shipping to ensure holiday delivery.
Go to our site and look, then come to Joden and touch.
Written by Carrie Martin
Photos by Shelly Isacco