Joden Girl
Baubles, Bling, and Little Things
The difference between good things and really great things is the details…  the small elements that combine to create true works of art.  I am always on the look-out for interesting pieces to share with you – this week, I was methodically peeking through trays of gold jewelry in Joe's office.  I wasn't expecting inspiration to strike…  I have looked at these pieces time and again.  Nonetheless, I was looking for SOMETHING.  That's when I found these…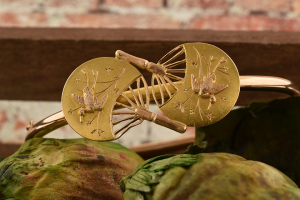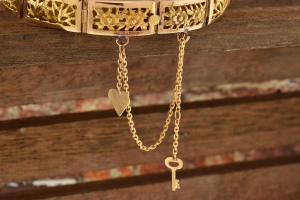 Two truly unique bracelets – I have seen both of them before, but never gave either more than a cursory glance.  When I picked up the first one, I pushed the tiny button that released the clasp.  I closed it around my wrist, this delicate tubular bangle made from 14 karat yellow gold featuring a pair of juxtaposed fans.  Then I brought it to my eye, my jeweler's loupe at the ready.  Centered on the matte gold finish of each fan was a Japanese Crane in flight – an ancient symbol of good fortune and longevity.  Absolutely charming!  The finer points of this lovely Art Nouveau bangle – the details – make it worth every penny of it's $1100 price.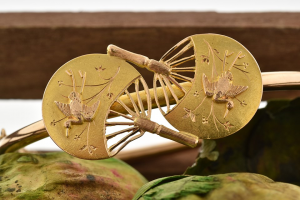 Then I picked up the second bracelet – this one a link-style.  When I moved the elegant little safety chain to the side and clasped the bracelet, that's when I saw it!  Dangling from one side of the chain was a small gold heart, and on the other side, a miniature key.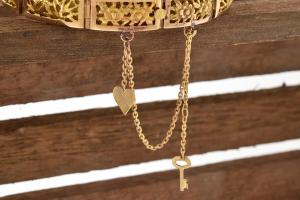 I didn't need to know another single thing about the bracelet – I was enchanted by this… the key to someone's heart.  For those who need to know more…  this beauty consists of eight links with a hand-engraved center.  Each section is a polished 18 karat yellow gold frame.  Inside the frames are alternating patterns of high-relief 22 karat yellow gold flowers and leaves.  Made in the 1950's and designed for daily wear, subtle sophistication combines with whimsical detail to create a true gem.  Take it home today for just $3200.
The essence, the spirit of Joden is in the details.  When you see our signature black bag and the embossed gold ribbon on the package, you know there's something incredible inside.  Check out our site at www.joden.com and then come to our showroom and experience the magic for yourself.
Written by Carrie Martin
Photos by Shelly Isacco