Joden Girl
Baubles, Bling and Flowered Rings
If there is one thing that I have learned during COVID-19 quarantine, it's to appreciate the little things… watching my boys shoot hoops outside, the immediate transformation that a fresh coat of paint can provide, and the sweet surprise of my spring flowers blooming.  With so much time on my hands, it has forced me to slow down and savor each moment.  It really is the littlest things that make the biggest difference.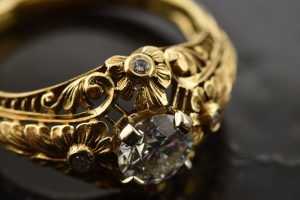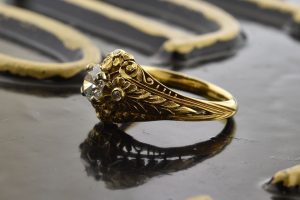 The details of this ring are everything – it's a botanical beauty!  Eighteen karat yellow gold was utilized to perfection, creating each and every element with quality and consideration.  Encircling the center stone are four flowers  – a tiny bezel-set diamond highlights the heart of each one.  Cascading down the shoulders are a graduating series of leaves, with a singular leaf marking the end.  Additional delicate wire-work, swirls and artistic lines create a vision reminiscent of antique filigree, although this gem is definitely modern.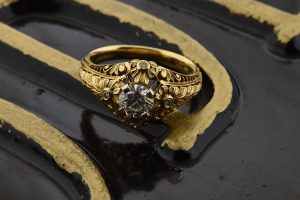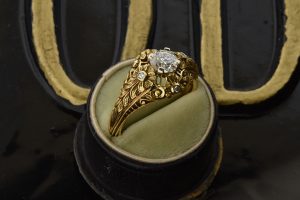 Not to be missed – one round brilliant diamond weighing in at exactly .50 carat sits center stage.  Sparkling with life, this stone is a true treasure with a color grade of F-G and a clarity grade of VS.  Those four small stones weigh just .01 carat each – bringing the total gem weight of the  ring to .54 carat.  
This true artistry of this piece is that no one detail is more prominent than any other, each one is essential.   And together, they combine to sing in perfect harmony.  It's the secret of life. ♥  Priced at just $2,700 – this ring is available now.  Call us at 1-800-747-7552 to make it yours.  
Written by Carrie Martin
Photos by Dana Jerpe