Joden Girl
Baubles and Bling with Unbelievable Pricing
There's no question, I love flower designs and botanical patterns.  The appeal of tiny blossoms and leafy detail is simply irresistible.  I find myself being drawn to pieces with floral style.  And I'm not alone… our customers seem to gravitate toward these beauties as well.  
This Pick of the Week speaks to me on more than one level.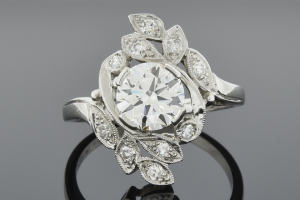 The overall shape of the ring is everything.  Navette rings have been at the forefront of design since the Victorian era.  Pointed tips and equally contoured sides form a marquise silhouette.  The elegant and timeless appeal complements every hand and elongates the finger.  This platinum pick is no exception.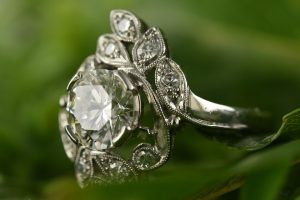 Ten diamond-set fronds form the outline, arching gracefully around the upper and lower portion of the ring.  These delicate leaves border a killer center stone.  Weighing in at 1.25 carats, this near colorless beauty really packs a punch.  Laboratory graded as an I-J, VS1-2, this round brilliant diamond is impossible to resist.  I love how the leaves envelop the center stone, accenting it to perfection without drawing attention away from it.  The balance achieved in this 1960's design is genius.  
Let's crunch the numbers:
Laboratory Appraisal Value: $14,405.00
Original Joden Price:  $11,475.00
Unbelievable Pick of the Week Price:  $8,850.00
Vintage flair with a modern twist…  that's how I would describe this piece.  Wear it on your right hand or your left, it works on a ring finger just as easily as it does a index or middle finger.  You can't go wrong.  Check it out on our site or visit us in person!
"You can go to a museum and look, or come to us and touch."
Written by Carrie Martin
Photos by Dana Jerpe and Shelly Isacco