Joden Girl
Baubles and Bling with Unbelievable Pricing
I am often amazed at how a truly extraordinary piece of jewelry can occasionally be overlooked amid our vast inventory.  It's no secret that the cases at Joden are overflowing with treasures of all varieties…  antique, estate, and modern.  Perhaps you'll remember that some of the most rare and unique items are often scooped up and squirreled away… it's a private collection called Joe's Special Box.  For more than two years, I have shared my favorite pieces from this collection in a blog bearing the same name. 
The sixth edition of The Pick of the Week was an earlier personal favorite of mine…  Joe's Special Box – Volume 11.    Initially I found myself drawn to the charming appearance of the navette-shaped onyx adorned with a delicate seed pearl and rose-cut diamond flower.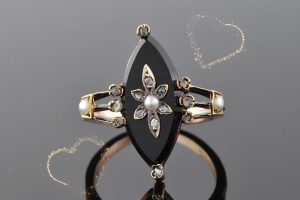 Then I experienced a bit of sticker shock upon learning that this deceptively simple ring was priced at $1,380.00.  I questioned Joe about it and discovered the laborious techniques involved in hand-crafting this Victorian beauty including a time-honored art called trumming.  
As hard as it is for me to believe, somehow this ring still hasn't found it's forever home.  That made it a perfect fit for the Pick of the Week!  Painstakingly crafted from a singular piece of 18 karat rosy gold, this triple-split shank gem with seed pearl and rose cut diamond trim is up for grabs.  Originally priced at $1,380.00 on our site, this baby has been reduced to just $980!  Don't miss out on this short-term deal – the special pricing is available for just one week.  You deserve a bit of retail therapy – go to our site and grab it!
"You can go to our site and look, then come to Joden and touch."
Written by Carrie Martin
Photos by Dana Jerpe and Shelly Isacco