Joden Girl
Baubles, Bling, and A Collector's Things
Behind the golden oak door of Joe's desk are three worn cardboard boxes.  Each is hand-inscribed with a thick, black Sharpie…  "Joe's Special Box".  The edges of the boxes have split apart and been repaired with clear tape.  Each one is filled to overflowing with delicious little treasures – the best of the best. 
For as long as I can remember, Joe has kept this small stash; a jewelry lover's dream.  It all began with one small box for one small girl…  Joe's daughter, Sara.  When Joe found a piece that was particularly sweet – he tucked it in the box with the intention of giving it to Sara someday.  None of the items were terribly expensive, but they were pristine.  Each one even more lovely than the last.  Did I mention that the items inside were not for sale?
As the years went by and the business grew, so did the box.  Now that it has expanded into three boxes, Joe is willing to make some of the items available to you.  Each week, I will be sharing an item from the box.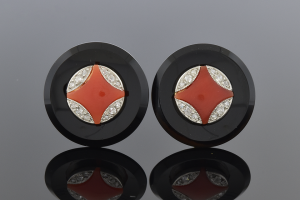 I adore these conversion earrings!  Originally they were cufflinks that graced the cuffs of a gentleman's sleeves  – since then, they've been converted to the earrings you see here. 
The center of each one is a hand-carved piece of deep-sea red coral – cut into a Victorian square.  The coral is accented by four platinum marquises… each one set with three tiny rose cut diamonds.  The outer ring is created from a circular sculpted piece of black onyx.  The deceptively simple design is the epitome of Edwardian elegance.  Available now for just $800.
Don't forget to tune in each Monday for the newest item from Joe's Special Box.  Until then…
Go to our site and look, then come to Joden and touch.
Written by Carrie Martin
Photos by Shelly Isacco