Joden Girl
Baubles and Bling with Unbelievable Pricing
Nearly 20% of all marriage proposals take place within the month of December with most of them happening on Christmas Day.  Our store is located in Grove City, Pennsylvania.  Earlier this year, we were forced to close for just about seven weeks.  When we were able to open our doors in late May, we saw a massive wave of engagement rings purchases.  Lots and lots of engagement rings.  
Postponed and delayed weddings have not deterred anyone.  Diminished guest lists and ever-changing restrictions are mere bumps in the road.  Couples of all ages want to tie the knot.  Many would say that adversity caused rifts  – at Joden, we would argue that it has brought folks closer together.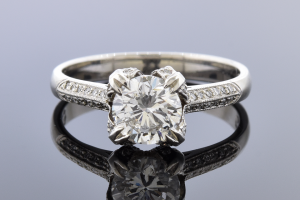 If a diamond engagement ring is at the top of your list, then rest assured…  you are in the right place.  This is the 23rd edition of Pick of the Week.  Within those blogs, eight diamond engagement rings remain including this stunner.  
An original Tacori design made from platinum, this classic-styled ring is sure to bring a smile to your face.  Four petal-shaped prongs come together to create a tulip-like look.  These prongs and the shoulders of this traditional beauty are set with fifty-six fully faceted round brilliant diamonds that have a combined weight of .20 carat.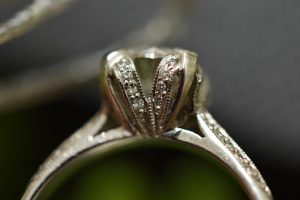 This bit of sparkle combined with precise platinum engineering is the ideal setting for a divine 1.00 carat center stone.  Hitting the charts with an H-I color grade and an SI1-2 clarity grade – this diamond is a dream.  Striking a great balance of the Four C's, it is the crowning glory of this designer engagement ring.  Valued by the International Gemological Institute of America, this piece has a Retail Replacement Value of $10,770.00.
This classically styled ring has been a featured product on our site for a little while.  While many have looked, no one has pushed the buy button.   It's been listed for $8,925.00…  that's a savings of $1,845 from the Retail Replacement Value.  Let's sweeten the pot just a bit.  Starting today, this ring is available for just $7,140.00!  What a deal!
Take advantage of this savings by stopping in at the store, hopping onto our site…  or by using our latest shopping option – Holiday Concierge Services.  The experts at Joden will work with you by telephone, through email or by text message.  We are happy to send additional photos and answer any question you may have about this or any of our fine jewelry.  Don't hesitate to take advantage of each of our convenient shopping options.
Call 1-800-747-7552
Email – joden@joden.com
Text 724-699-1932
"You can go to a museum and look, or come to us and touch."
Written by Carrie Martin
Photos by Dana Jerpe and Shelly Isacco