Joden Girl
Baubles and Bling with Unbelievable Pricing
Art Deco was arguably the most innovative, opulent and stylistically advanced period of the last two hundred years.  The look was elaborate; geometric designs overflowing with diamonds accented with tiny pops of color.  It was architectural and elegant, capturing hearts for generations.  Art Deco began to emerge in 1915 and continued into the mid-late 1930's.  
The Art Deco style has influenced every period since.  In fact, it is the most copied design aesthetic of the modern era.  Entire companies have been founded exclusively on Art Deco-inspired jewelry and countless others offer individual lines infused with 1930's panache.  Perhaps the most successful modern maker of Art Deco-inspired jewelry is Beverley K. 
Founded in 1999, Beverley K creates graceful and feminine jewelry that captures a perfect harmonious balance gems and precious metals.  At Joden, we often have a piece or two of Beverley K pizzazz sprinkled throughout the store. 
Today we are featuring one of our favorites.  This 18-karat white gold beauty is striking from every angle.  Flattering the finger, the overall shape is elongated and narrow – it's a miniature sculpture.  The ends are capped with a pair of bullet-cut vivid blue sapphires.  Eight additional French-cut sapphires span the center of the ring, in total, the sapphires have a combined weight of 1.92 carats.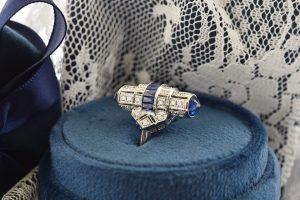 Twenty-six diamonds accent the ornate geometric design.  These diamonds offer .42 carat of sparkle.  Overall, the design is sleek, sophisticated and totally Art Deco.  This ring is still active in the Beverley K line, it has been featured on our website for $4,700.00.  It's a classic example of everything being right about the piece…  which makes me wonder why we still have it.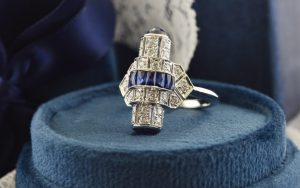 It must be the price.  Let's fix that!  Now a Pick of the Week – this Beverley K stunner is available for just $3,750.00.  If you've had your eye on it – now is the time to make it yours. 
"You can go to a museum and look, or come to us and touch."
Written by Carrie Martin
Photos by Dana Jerpe