Joden Girl
Baubles, Bling, and A Collector's Things
Primitive.  That word accurately describes this ultra cool ring from Joe's Special Box.  Likely handmade, this ring features closed back construction…  a characteristic that was prevalent in the Georgian era.  Decidedly vintage, this ring isn't Georgian.  It's more likely that this beauty is from the 1950's.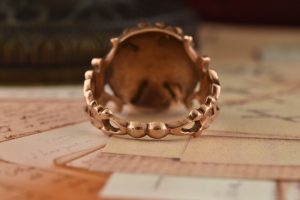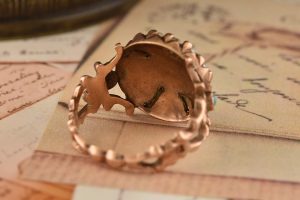 Made from 10 karat rosy gold, the ring centers on a small oval red stone.  Not a natural gem, this stone is surrounded by two rows of irregularly shaped pearls.  These pearls, exhibiting gray overtones, are strung on wire.  The ends of the wire have been carefully threaded through the back of the ring and secured in place.  Due to the concave shape of the piece, the wires do not present any discomfort when the ring is worn.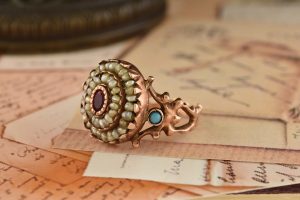 This side view showcases all of my favorite details of the ring…  
The perfectly jagged lip at the top.  The rim of the ring is not softly scalloped, but rather spiked and serrated.  
Set in a tiny pinched collet on each side is a small round blue turquoise.  I love the contrast of the bright blue against the coppery colored gold.
Featuring unique open patterns, the shank of this ring is unlike any other – including the unusual textured edge and faint remnants of an old hallmark.
This look is a rare find in Joe's Special Box – it's a departure.  It's not a ring that I would describe as pretty… it's striking.  Priced at $550 – this is not a piece for everyone.  But if it's for you, don't hesitate.  It won't last long.
Written by Carrie Martin
Photos by Dana Jerpe