Joden Girl
Baubles, Bling and Celestial Things
Instagram is filled with all things celestial…  suns, stars and perhaps most prominent – the crescent moon.  This classic symbol has timeless appeal to audiences of all ages.  A talisman for fertility, this simple shape is iconic.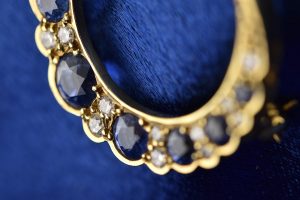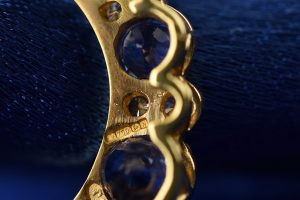 Complete with English hallmarks, this beauty is sure to elicit quite a lot of "oohs and aahs"!  I love the softly scalloped outer edge that outlines each stone held within.  This Victorian wonder features an alternating row of bright blue sapphires and dazzling diamonds.  There are eighteen Old European Cut diamonds that have a combined total weight of .50 carat and nine round sapphires that have a combined total weight of 1.10 carats.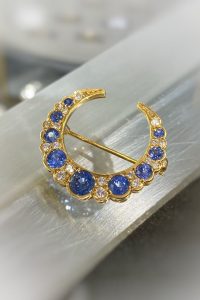 Brooches were all the rage in the 1880's when this gem was created.  But now, lifestyles have changed.  Fashion has changed.  In our expert shop, with just a few small alterations, this pin can become a beautiful pendant…  this simple revision would take this lovely piece from an occasional adornment to a signature accessory.  
We began Celestial Week with a glorious moonstone pendant, showcasing multicolored enamel patterns.  This crescent moon is the perfect way to end the week.  Priced at just $2,250.00 – it will leave you feeling anything but blue.
"You can go to a museum and look, or come to us and touch."
Written by Carrie Martin
Photos by Dana Jerpe