Joden Girl
Baubles, Bling, and  Oxidized Things
Made pre-1860, it's impossible to say whether this crescent moon brooch is late Georgian or early Victorian.  What I can say is that it is near perfection.  Two rows of rose cut diamonds have been handset into individual sculpted seats, while a third center row is raised and fitted with eight buttercups.  Carefully fixed into each one is an Old Mine Cut diamond.  A ten-petaled flower sits atop the crescent.  Yet another Old Mine Cut diamond forms the middle of the blossom and is orbitted by ten pinched collets also featuring rose cut diamonds.  This romantic detail is one of my favorite parts of the brooch.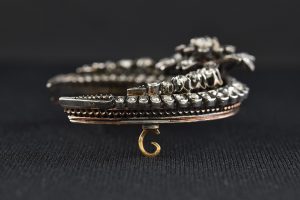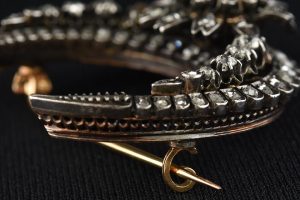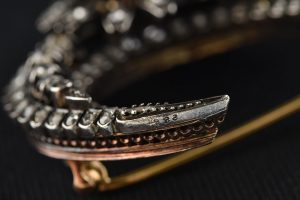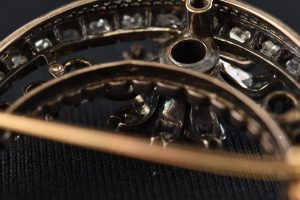 These photographs illustrate the labor intensive work that was needed to expertly craft this elegant beauty.  Ornate metal work is a trademark of the early 1800's as is the two tone color of the profile…  rosy yellow gold has been topped with a layer of silver…  another little aspect that I adore.  My absolute favorite design element has to be that gorgeous patina.  Hundreds of years of exposure to air allowed this thin layer of oxidation to settle over every nook and cranny of the crescent moon.  This aging process adds another dimension to the piece that, to me, is everything.  Cleaning it would be a sin!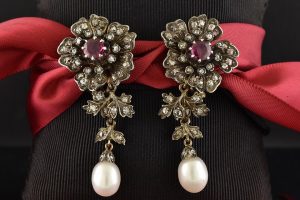 Pair the pin with these earrings to complete your look.  Movement is the key to these gems!  The top portion (a lovely flower) stays stationary on the lobe, while the lower part swings freely.  This motion allows light to dance across the surface of the diamonds, creating a dazzling effect.  A matched pair of deep red rubies form the center of each earring.  They are surrounded by a ring of ten pinched collets – perfectly mimicking the design of the crescent moon!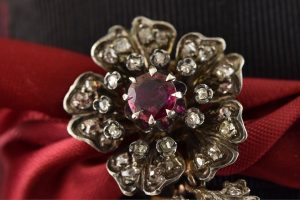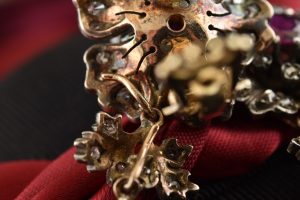 The two tone vibe of the brooch is also duplicated in the earrings as well as that dark patina, drawing yet another parallel between these vintage charmers.  Wear them alone or together, the choice is yours.  Make the brooch yours for $3,480 and the earrings for $4,700.  These pieces and so much more are available every day at Joden.
"You can go to a museum and look or come to Joden and touch."
Written by Carrie Martin
Photos by Dana Jerpe