Joden Girl
Baubles, Bling, and A Collector's Things
If you've been searching for a ring that is truly unique, look no further.  This unusual find from Joe's Special Box dates back to the Mid-Victorian period.  Made entirely of silver, this beauty offers a lovely elongated shape that sits perfectly on the finger. 
Each of the twelve diamonds set in the ring are rose cuts.  Every one is held within an open back setting, a detail of Victorian era gems.  Earlier Georgian pieces utilized closed-back construction.  These openings allow for light to reach the diamonds and also add ease to the cleaning process.  The primitive rose cut showcases a flat back with a domed and lightly faceted top.  Said to sparkle best in candle light, this early diamond cut reached a peak of popularity when candles became readily available to everyone, not just the wealthy.  Diamond sales surged with the advances in the candle making process.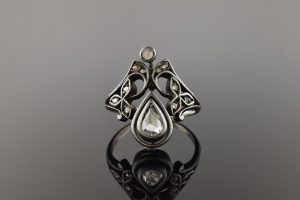 The center rose cut is a pear-shape.  It is surrounded by a series of eleven more diamonds set in the leaf-like details of the ring.  The combined weight of all twelve stones is approximately .50 carat.  Over the past 160 years, the silver framework of the ring has tarnished to black…  this patina is the very thing that makes me love this ring.  It speaks to the age of this antique gem and although it could be cleaned, it would change the feel of the ring entirely.  Now a featured item on our website, this beauty from the mid-1860's is available for $2,500.00.
"You can go to a museum and look, or come to us and touch."
Written by Carrie Martin
Photos by Dana Jerpe