Joden Girl
Baubles, Bling, and The Latest Things
The word retro is defined as reviving the style of the past.  That definition alone makes me think that the 1940's era known as the Retro period was a bit of a misnomer.  The bold jewels created in the years during and after WWII  were unlike anything ever seen before.  Rather than being reminiscent of the past, as the name suggests, these gems were modern marvels that offered real style and design.
The Retro era is not typically well represented in our inventory.  We have a handful of pieces from time to time but not a lot.  Recently, these striking beauties have been popping up more and more.  I chose a colorful trio of rings that showcase everything the era was known for.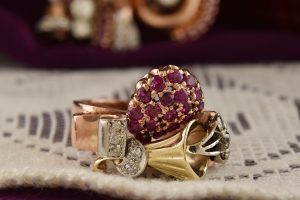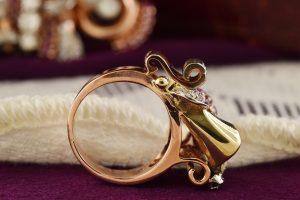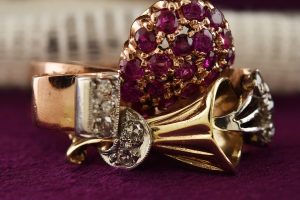 A decorative celebration of rose and yellow gold accented by a hint of platinum, this whimsical ring combines a botanical vibe with asymmetrical flair.  The trumpet blossom and berry configuration features eight round diamonds that have a total weight of .20 carat and fourteen rubies that have a total weight of .35 carat.  This ring is priced at $1980.00,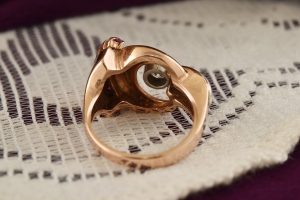 Resembling a buckle, this ring is  14 karat rose gold with platinum trim.  A spray of eight rubies are set in a semi-circle on the outer edge…  these bright red gems have a combined weight of .25 carat.  Accenting the tongue portion of the buckle style are four round diamonds that have a total weight of .20 carat.  The round shape of the ring is pleasing to the eye… this fun piece is priced at $975.00,
Finally, we have the wonderous ribbon ring featured on the far left side of this threesome.  The oversize scrolls are made from 14 karat rose gold.  The ring is decorated with twenty-one round diamonds, each set in platinum trim.  These diamonds have a combined weight of 1.00 carat.  Bringing an element of color to the design are eight round rubies.  Set between the diamonds, these bold red gems have a combined weight of .50 carat.  My favorite of the three, this ring is priced at $3,250.00.
If you've been looking to add something unique to your jewelry wardrobe, look no further.  Retro is the way to go.
"You can go to a museum and look, or come to us and touch."
Written by Carrie Martin
Photos by Dana Jerpe