Joden Girl
Baubles, Bling, and Sapphire Rings
I have a confession to make…  I love jewelry.  I love looking at it, I love talking about it, I love writing about it.  However – I don't really wear it, especially lately.  It lays in piles all over our house…  four bangles and a diamond band rest beside the toaster in the kitchen.  There's a pair of oversize silver hoops and a long necklace on the end table in the living room.  The nightstand beside my bed is littered with bobby pins, a tub of Nivea crème, and at least four pair of discarded earrings.  The older I get, the more I want to simplify my life.  Less accessories just seems easier.  There is no decision to make.  Slip my diamond studs into my ears, put on my engagement ring and wedding band, and done.  On the weekends, I only wear my wedding band.  I love the way it looks on finger all by itself.  Simple and elegant. 
I love jewelry that means something…  Personal jewelry.  The significance of my wedding rings is obvious.  My diamond earrings were a gift from my husband at a time when we really couldn't afford luxuries.  And yet, there they were, under our Christmas tree.  Because of that, I treasure them all the more.  I'm sure that in the years to come, I will acquire another piece or two of jewelry.  I have always wanted a sapphire ring.  Nothing over the top.  Just simple and elegant. 
I love tiny details about each of the rings pictured above.  They are all Victorian rings from the late 1800's.  The style of jewelry had become much lighter than the Mid-Victorian era.  Rings were often small with an open airy feel.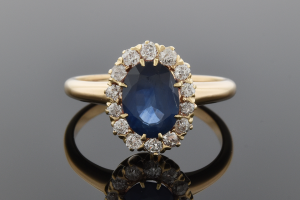 This classic piece features an oval sapphire surrounded by an Old European Cut diamond halo.  The sapphire weighs 1.50 carats with .30 carats of diamonds.  Priced at just $1500, it's perfect for every day wear.
This is my favorite.  It can easily be worn as a right hand ring or an alternative to the traditional diamond engagement ring.  The small round sapphire is a sublime shade of cornflower blue encircled by nine Old Mine Cut diamonds, each facet twinkling in the light.  I love the scrollwork that forms the prongs and graces the shoulders of this tiny enchantress.  Check it out on our site.  At $2500, it's irresistible!
What's not to love about this band style ring set with three cushion-shaped sapphires, two natural pearls, and eight rose cut diamonds?  Called a carved half hoop ring for the intricate gallery work that creates the prongs, this style was popular from the mid to late 1800's.  It's also available on our website, priced at only $1950.00. 
All three of these rings are simple and elegant.  I would happily  abandon any right hand ring I have for one of these antique gems.  Perhaps you would too!
Written by Carrie Martin
Photos by Carla Leight and Shelly Isacco